Taking up the hiking challenge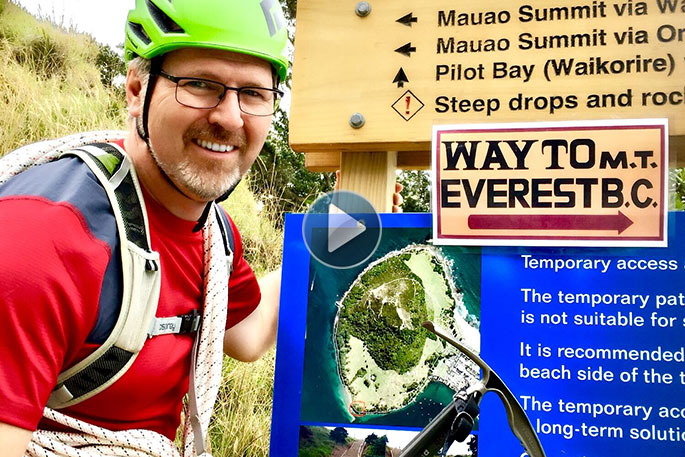 Click the image above to watch the video
The attire is a bit of a laugh, but Richard Thurlow has committed to some serious hiking in support of Waipuna Hospice.
The Waipuna Hospice chief executive - pictured here on Mauao - has signed up the More FM Mt Everest challenge, which begins on February 9 and wraps up on March 30.
Like scores of others, Richard will climb Mauao 38 times in 50 days - the equivalent of climbing Mount Everest - while collecting donations. This year's challenge is in support of Waipuna Hospice.
It's not the first time Richard has walked the Waipuna fundraising talk. He took on a physical challenge involving rowing a marathon back in 2011.
"I rowed my marathon – plus some change – on a Concept 2 rowing machine in just over three hours. On the day, I survived and was very pleased to raise over $5,000. But, the next day I couldn't bend to get into my car," Richard recalls.
He's been pounding the Mauao track over summer to be perfectly prepared for this latest challenge.
Richard won't be the only one flying the Waipuna flag. Waipuna Hospice staff and other board members will join forces as teams to also scale Mauao the required number of times.
In addition, new Waipuna Hospice Inc board member Leona Smith is also up for the 38 times in 50 days challenge. Her husband, Graeme, plans to keep up with her and together they aim to raise $10,000 for Hospice.
Money is raised by people supporting the climbers with donations.
To support
Richard https://givealittle.co.nz/fundraiser/lets-do-this-and-get-funds-for-waipuna-hospice
and
Leona, visit https://givealittle.co.nz/fundraiser/leona-and-graeme-its-38-x-2-mt-everest-challenge#
Committing to this endeavour was a no-brainer, Leona says.
"This is a great initiative that promotes health and wellness and at the same time raises money for an incredibly important charity in our community. Waipuna Hospice does so much for so many and if we can do a little to assist we are so happy to do so.
"It is a challenge to complete this event, but it's equally a challenge to get support and donations so we will be putting our efforts into both components," Leona says.
More on SunLive...