What's On: Colour Splash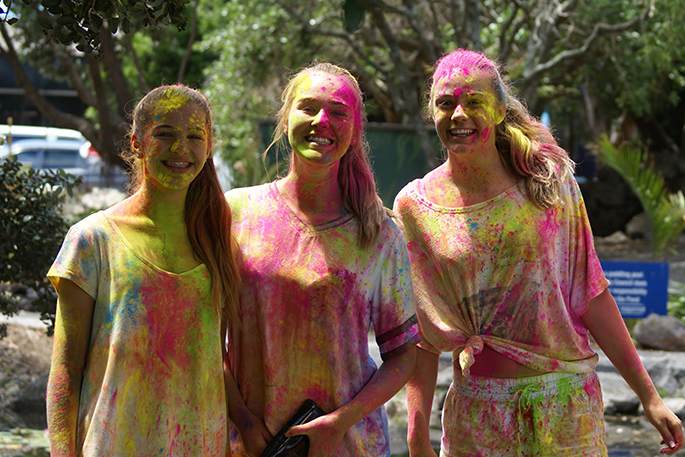 Good Morning Tauranga and welcome to a slightly cooler day, with the high being 24 degrees and possible scattered showers heading our way.
If you're wondering what to do today, there are many events on, such as the Colour Splash and Wheels 4 Cure Kids.
Colour Splash
Colour Splash is an opportunity to let loose and have some colourful fun in the sun alongside a live DJ and performances from Bay of Plenty Performing Arts and German Bollywood dancer Manjulali. There will also be traditional Indian vegetarian food available.
The event, now in its fourth year, is organised by Katikati couple Dhruva and Bela Reid, and as is celebrated in India every March to mark the traditional Hindu festival of Holi, which ushers in the beginning of spring as well as the triumph of good over evil.
"The Holi spirit of throwing dye is becoming more popular all around the globe," says Bela. "It has its roots in the ancient Indian culture where the goddess Radha would throw dye with the god Krishna. For modern times it is good for people to frolic, dance and chase each other, regardless of religious background and ethnicity.
"We have seen how throwing dye changes people's moods. They shed their inhibitions and young and old simply enjoy being together."
Bela says the couple hope to bring more of a spiritual and cultural aspect to the event over the coming years, but for now they are happy to stick with the throwing of dye and popular Western music.
"It's best to wear old, white clothing to see the best effects of the colour," adds Bela.
Colour Splash is at Coronation Park from 12-4pm. Entry is free and packets of coloured dye can be purchased on site for $5 each or five for $20.
For more information visit: www.facebook.com/coloursplashnz
Wheels 4 Cure Kids
Wheels 4 Cure Kids is an annual event where proceeds go to the children's charity Cure Kids.
The event will feature an all-star Nitro Circus line up, including a world first stunt being performed by Levi Sherwood. Come meet the stars and get amongst a massive day of fun and good times for all!
There will also be FMX verses BMX train battles, street bike action from Nic Kruzah Kroeze, and rising FMX star Carlos Hanlin. Plus a chance to meet the stars from Nitro circus, kids rides, charity auctions, music, and food.
Attendees can also be in to win the raffle draw prize which is a KTM SX50.
The Wheels 4 Kids event runs from 1pm at the Frazer Cove shopping centre by World End bar and restaurant.
Saturday 13 January
Art in Park
Art in Park - art for sale - weather permitting - Tauranga Society of Artists inc. 9am - 4pm
---
Art Waihi Exhibition
Waihi Memorial Hall Seddon St today & Sunday 10am-4pm. Guests: Mosaic artists Pauline Goodwin & JJ Jones & Painter Shirley Killick.
---
Back by Popular demand
ZEE Market is back, so many new things to start 2018, come along today to 169 Elizabeth St Hall, 10am-2pm
---
Beth El Messianic Family
Come celebrate family life with Jews & Gentiles who meet & worship as Yeshua (Jesus) & all the early believers did. 10am Otumoetai Primary. BethEl.org.nz
---
Dragon Boating - Womens
Give it a Go Paddling Sessions held weekly Mon/Thurs 5:30pm & Sat 7:30am, Sulphur Point. RSVP by Txt Brooke 022 078 2308 for info pack.
---
Kids Crystal Club
Learn how crystals are formed. Have FUN and receive FREE Crystals. Ages 7-12. $20 per child. At Whisp-Piccadilly Arcade. 02044 (WHISP) 94477Contact for times. www.whisp.co.nz
---
LOL Laughter Wellness
Keep well on LAUGHTER - the best medicine ever. 11:00-11:45am Arataki Community Centre, Zambuk Way, Mt Maunganui. Koha. Ph Trish 022 036 6768 Email lollaughterwellness@gmail.com
---
LOL Laughter Wellness
Discover the joy & health benefits of hearty laughter. 11:00-11:45am Arataki Community Centre, Zambuk Way, Mt Maunganui. Koha. Ph Trish 022 036 6768 Email lollaughterwellness@gmail.com
---
Meditate On The Beach
Practise Mindfulness Meditation at Tay Street beach 7am-8am. Instruction given. Enjoy relaxation, beauty & fresh air. Make life more meaningful. Weather permitting.
---
Mount RSA Indoor Bowls
Mount RSA Indoor Bowls commence on Monday the 26th of February. All welcome names in by 6:30pm play starts at 7pm. Ph Diane on 575 3480
---
Mt. Maunganui Menz Shed
Wednesdays & Thursdays 9am at 6/45 Aviation Ave. New members welcome. Go to www.menzshed.org.nz or Ph Keith Dickson 021 0259 6454
---
Otumoetai Tennis Club
Adult Tennis on Saturdays at Bellevue Park, 75 Windsor Road, Bellevue. Start time 1:30pm. Enquiries Fred 544 5088
---
Qigong With Michael
Classes: Mon 1-2pm (weekly) Whisp Alternative Health Club Shop 24 Piccadilly Arcade, 43 Devonport Rd Sat: 9:30am-10:30am (weekly) Health Quarters 67 Willow St. Bookings 021 735 798 www.michaelgoodhue.com
---
Sport BOP Bike Month
From group rides and bike maintenance to mountain biking, there's something for everyone in our Bike Month calendars. Plus prizes to be won! www.sportbop.co.nz/bike-month
---
Tauranga Rotary Easter Booksale
Please donate books, records, Cds, Dvds, Jigsaws & Sheet music for next Rotary Charity Book sale. Ph Anne 543 5350 or Ross 544 0817
---
Te Puke Menz Shed
Mondays, Wednesdays & Saturdays @ 9am at 86B No. 3 Road Te Puke. New members welcome. Ph 573 8655 or 573 6779
---
Te Puke Scottish Society
Dance, Saturday, 20th January, Baptist Church, Malyon Street, Te Puke, 7:30-11pm. Men $7, ladies a plate towards supper or $7. Ph Valerie 573 7093
---
The Way Messianic Meeting
We are a community group that teaches & practices 'One New Man' principles. All ages welcome. 10am, Hillier Ctr, Mt Maunganui. Ph 021 0226 3515
---
WANTED Books/CDs/DVDs/Puzzles
For Mount Lions & Lioness Clubs Book Fair. Drop-off points or collection ph Pip 543 2175 or Stella 575 0685 or text details to 021 033 0795
More on SunLive...