Heavy vehicles asked to avoid SH25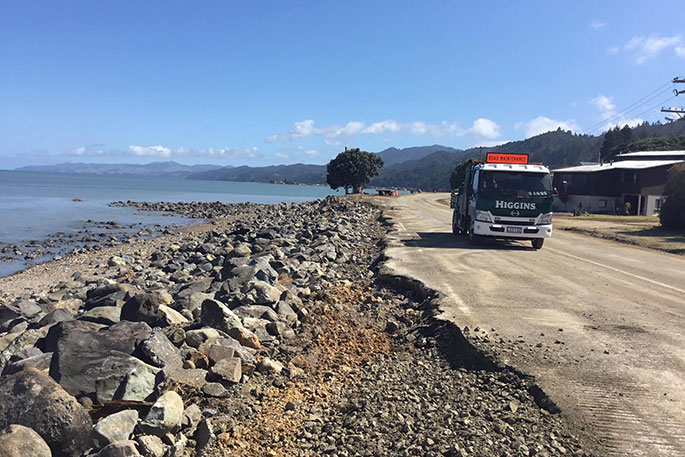 The NZ Transport Agency is asking heavy vehicles operators to travel the Tairua way around State Highway 25 to minimise further damage to the number of worksites under repair.
State Highway 25 is now open to both north and south bound traffic however travel on the western side, Thames Coast, has an escorted convoy and a number of work sites, so long delays are likely.
Work is continuing at multiple sites along the highway to repair damage from the storm.
There is extensive damage along the 42 kilometres of highway between Thames and Manaia.
Within this there are 29 locations, totalling about 2.4 kilometres, which have been repaired or need repair before the road can open fully to two lanes of traffic.
"Over the last 72 hours the Transport Agency and our Contractor, Higgins, have worked very quickly to repair and make these sites safe," says NZTA Transport System Manager Karen Boyt.
As a result, the convoy is now significantly reduced in length.
There is currently a cordon at Whakatete Bay and another at Te Puru, where traffic can assemble for convoys which will run continuously, but there will be significant delays.
"We really do need heavy vehicles to continue to use the longer route because the Thames Coast Road is still highly sensitive to further damage.
"While the road is open to traffic long delays may occur so motorists are asked to defer their journey or take alternative routes if possible," says Karen.
The road is expected to open tomorrow, however some parts will remain at one lane so people can expect delays.
The convoy system will be removed once the road is open.
A thorough road inspection is taking place so a detailed plan for the repair of SH25 can be prepared.
How to stay up to date:
· A new webpage has been set up to provide travel information for the journey from Thames to Manaia www.journeys.nzta.govt.nz/sh25
· The key traffic and travel source which provides up-to-date information on weather and road conditions nationwide is www.nzta.govt.nz/traffic
· Important information is also shared via the Transport Agency's official Twitter and Facebook accounts listed here www.nzta.govt.nz/contact-us/connect-with-us/
· Thames Coromandel District Council facebook updates here www.facebook.com/ThamesCoromandelDistrictCouncil/
· Drivers can also call 0800 4 HIGHWAYS (0800 44 44 49) to speak to the call centre team who can provide them with traffic and travel information either before they're travelling or when they're on the road.
More on SunLive...