SH25 expected to open today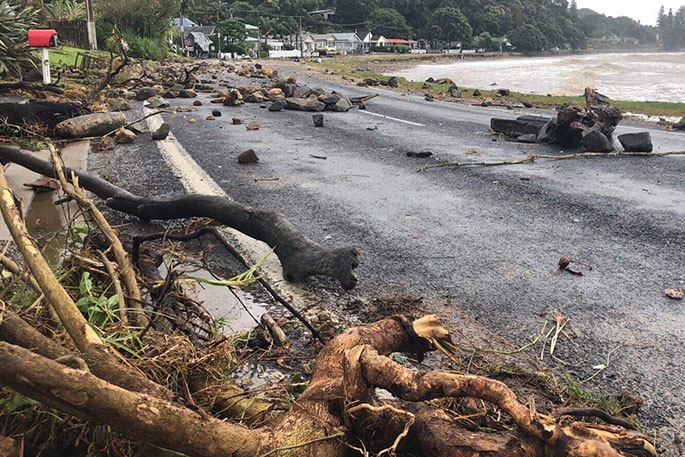 The Thames Coast Road, State Highway 25, is expected to open to one lane at around morning at 9am, with escorted convoys along the full length of the Thames Coast Road.
These convoys are expected to run about every 30 minutes for full public use.
The Thames Coromandel District Council is continuing to encourage drivers who can take alternate routes to do so.
"If you need to take the coast road, please allow extra time and be patient.
"Currently there are still escorted convoys taking traffic between Tararu and Te Puru, which is where the most significant damage has been done to the road following the storm which hit a few days ago.
"We are still expecting heavy traffic on the east coast (particularly around Tairua) as people head home from their holiday. Please plan ahead, allow extra time, try to avoid the west coast, and be patient on the roads."
To find out more check out NZTA's official site for updates click here
All other State Highways and Council roads around the Coromandel Peninsula are currently open.
"Our 24-hour Customer Services phone line is back online, however we are still experiencing some issues.
"If you have any issues with our main line 07 868 0200 please call us on 07 868 0206."
There are 8 now skip bin locations at Te Puru.
Looking after yourself.
An event like this can be traumatic and it's normal to feel stressed, says the council.
"Everyone responds differently to these situations. There may be outward signs of stress, changes in behaviour, or your ability to cope or be strong for others over a long period of time. This can cause a build up of tension without realising it's happening.
"What are your immediate needs or what strategies can you put in place to support yourself and your family? For example, visit friends of the area so that you can have a break away from the storm damage – even a couple of hours will help you recharge your batteries."
Remember you are not alone. Talk to friends and family. Here's some useful information and helpful information sheets to download here.
Rural support
• Farmers – if you've been affected by the storm, you're not alone. The Rural Support Trust are here to help – give them a call on 0800 RURAL HELP (0800 787 254).
Septic tanks
• With the weather event a number of coastal properties have suffered flooding & inundation from the sea. As a result of this some onsite septic tank systems could have been affected in a number of ways.

• Some septic tanks & disposal fields may have been filled with a large volume of sand & debris, which will need to cleared or sucked out. If this has occurred at your property and you are unable to adequately flush toilets or you believe it is coming the surface in your property or your neighbours, it needs addressing urgently. If you have not already managed to arrange for your septic tank to be cleared, (either yourself or through your insurance company), please contact us for it to be cleaned out.

• There may also have been a number of septic tanks that were inundated by sea water. The salt in the sea water will kill the natural bacteria that works away in your septic tanks, so they may not function correctly for a while. However, as long as your toilets can flush, this isn't an urgent problem. The tanks will generally sort themselves out once they are back in use.
Contaminated soil
Large volumes of sand and soil have been deposited in some locations, and many residents will be keen to move this material off their properties.
It is possible this sand and soil may be contaminated due to flooding of septic tanks (due to rainfall runoff from the ranges and sea inundation).
The contamination is likely to be fairly diluted levels due to the volume of water washing around as a result of the sea inundation.
Residents need to exercise a common sense, but cautious approach when clearing away this material, using gloves & washing hands to avoid contamination causing illness.
The natural UV disinfection from sunlight will kill any bacteria on the ground surface, but when digging down andexposing previously covered material, a cautious approach is best.
Similarly; customers are encouraged to supervise small children to prevent exposure to contaminated sand or soil. Using a household disinfectant for smaller areas may be an option too
1 at Aputa Ave (at the sea end) 1 at the boat ramp at Tatahi Street 2 at Seaview Ave (1 at the north end, and 1 at the end of the avenue) 3 along Sarjants Road (1 at the corner of the main road, and 2 along the road) 1 at Te Puru Hall
Also please check with your insurance provider before starting to remove flood damaged items.
The council is currently running short of skip bins so are asking residents north of Te Puru (e.g. Waioumu, Tapu) to stack any flood damaged waste in front of their properties or in a central location, and it'll collect it as soon as possible.
"You can dispose of flood damaged household items (e.g. carpet or furniture etc) at the Thames Refuse Station free of charge. Please supply your household address, name and vehicle registration to staff at the transfer station.
"We are getting lots of offers for help, money and goods to support those affected by the floods. Thank you to all those offering help. We are working on getting systems in place for money and goods, and will publicise how you can contribute as soon as those systems are in place. For those offering help, we really appreciate it, but recommend holding off until NZTA fully reopen the road and it is safe for everyone."
In Whangamata some residents are experiencing discoloration of their water supply. One of the water sources is higher in an iron oxide which makes it a yellowish colour. The team have checked the filters but as they say no health issue.
The Pauanui water treatment plant was able to recommence production of water from late yesterday, but customers are asked to conserve water as demand is met and reservoirs refilled. The water being supplied in Pauanui throughout the weather event has remained safe and potable with no issues with quality.
DOC has confirmed the Pinnacles Hut is open. The road is open with some metal washout but still driveable for two wheel vehicles.
The Thames to Kopu and Kopu to Kaiaua sections of the Hauraki Rail Trail are likely to be closed due to damage to the foreshore stopbanks along which it runs. That damage will be inspected next week.
"We still have a Total Fire Ban in place until at least 8 February, which includes bonfires and fireworks. See www.tcdc.govt.nz/fire for more information.
"The rain should help replenish reservoirs and water tanks, but we're still facing water restrictions due to high use and also filtering sediment and silt that will be coming through from this weather event. We will be reassessing the reservoir levels within the next 24 hours to see if restrictions need to be changed."
See what restrictions apply on our website www.tcdc.govt.nz/water.
More on SunLive...