Exploring from Te Puna to Tauranga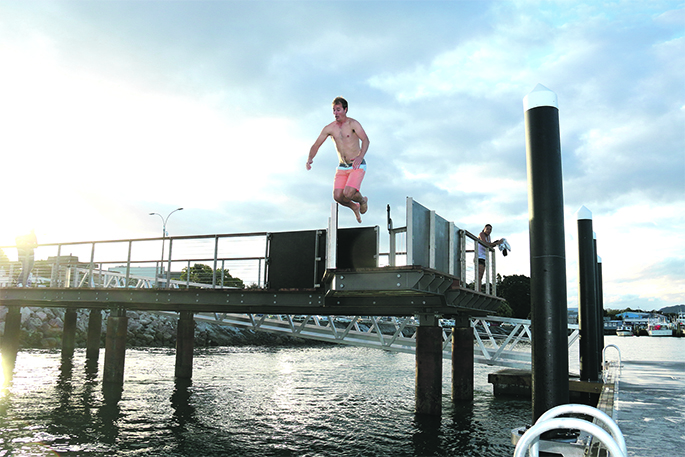 The Western Bay of Plenty is home to some of the most stunning public gardens in the country, including the Te Puna Quarry Park and McLaren Falls Park.

Formerly a working quarry, Te Puna Quarry Park has since been replanted by volunteers and includes New Zealand natives, heritage roses, nikau palms and cabbage trees, cacti and succulents, bromeliads, orchids, rhododendrons, fuchsias, magnolias, clivias and mixed ornamentals.
There is also a herb garden and a butterfly garden.
The park, just 15km west of Tauranga off State Highway 2, offers free admission but donations are welcome for the upkeep of the gardens and walking tracks. The Te Puna Quarry Park Society is also raising funds via a Givealittle page to erect a carved kuwaha (gateway) at the eastern bush area of the park.
Across the way off State Highway 29 is McLaren Falls Park, 190 hectares of parkland set alongside Lake McLaren. There are more than 1600 species of trees planted in the park by volunteers from the Bay of Plenty Tree Society over a period of 52 years.
It is a popular spot for camping, fishing, kayaking, a disc golf course, bush walks and summer concerts.
Heading back into the city, The Lakes at Tauriko is one of the newest suburbs in Tauranga and home to a number of walking, running and cycle tracks around Lake Taurikura.
There is also three orienteering courses available and the Tauranga Radio Sailing Club has remote-controlled yacht sailing on the lake from 11am every Saturday.
From there you can head along State Highway 36 to the TECT All Terrain Park which is divided into zones for quiet, active recreation such as walking, horse-riding or mountain-biking and others for noisier activities such as motorcycling, target shooting and rally car driving.
It is also home to the Adrenalin Forest high wire adventure course. The park is open from 7am-9pm during summer.
Back on the city fringes is Welcome Bay with Tye Park a good spot on the water's edge for a picnic, the Welcome Bay Hot Pools and Kaiate Falls.
Nestled into a scenic reserve, the falls tumble down a ravine in a series of cascades to a swimming hole at the bottom.
While a beautiful spot to cool down on a hot summer's day, the water has high levels of bacterial contamination and is not recommended for swimming.
Located on the harbour, Tauranga City is a great place to hang out on a summer's day. There are plenty of bars and restaurants along The Strand and Bobby's Fresh Fish Market on Dive Crescent is widely considered to have the best fish and chips in the Bay.
The Tauranga City Council has invested heavily in the waterfront in recent years with a beautiful parkland setting featuring a children's playground, tidal stairs, pier and pontoon.
Bombing off the pier is fast becoming a popular summer pastime and the Hairy Maclary statues are a hit with young and old.
From the waterfront you can also take a walk or cycle across the Matapihi Rail Bridge to Mount Maunganui.
Crossing the bridge when a train is going over adds a bit of excitement to the experience!
The view across to Mount Maunganui from the bonsai garden at Te Puna Quarry Park.
While Tauranga might not have its own museum, it is blessed with some fantastic street art, which was boosted by the recent Paradox Street Art Festival.
A new Tauranga Art Lovers' Walk map is now available from information centres and art galleries around town.
The Art Lovers' Walk will also lead you to the Historic Village in 17th Avenue where you can experience the charm of yesteryear as you stroll the cobbled streets of the village.
The character buildings are home to more than 50 businesses, shops and community organisations and the village grounds are open seven days a week from 7.30am-10pm.
If you're wanting to walk, run or cycle there are numerous parks and reserves in the city. Memorial Park is the city's premier park on 11 hectares next to the harbour.
There are two playgrounds, a water fountain, skate ramp, outdoor swimming pool, miniature railway and mini golf and a 50-year-old Humpty Dumpty.
One of the most popular walkways in town is the Waikareao Estuary, a 9km loop track ideal for walking and cycling on flat, winding boardwalks.
And, of course, being harbourside if you want to take a boat cruise or fishing trip there are plenty of options available, and if you have your own boat or jet ski there are seven free public boat ramps around the city.
The public can also freely fish from the pontoon at the Tauranga Marina, the Marine Park boat ramp, Sulphur Point Rocks and the shore near the Otumoetai train bridge.
More on SunLive...