Help deployed to Coromandel communities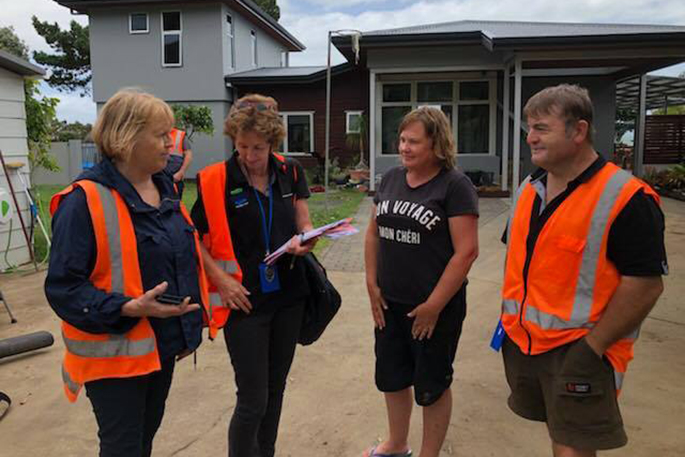 The NZ Defence Force and the Red Cross and identified members from NZ Civil Defence have been deployed to make contact with communities in Tararu and Te Puru.
Thames Coromandel District Coucil say these are the only three groups who you should give your information to and receive advice from. They will be in uniform.
The Defence Force will make attempts to continue along the Thames Coast Rd dependent on conditions.
"Today is all about finding out what the hell happened and that's what we are doing. We have the Defence force, Red Cross, and our Civil Defence teams are working their way up the Coast," says Garry Towler, our Civil Defence Controller.
"They will be visiting the communities, be doing accessments on building, but above all they are going to look at the people in the communities to make sure they are safe."
"Recovery will take some time and we are asking people to please be patient."
"NZ Transport Agency has advised us that the Thames Coast Road (SH25) is closed and they are currently assessing damage."
The road is passable for urgent mattersor residents from Te Puru north, and convoys will run between Te Puru and Tararu. There is severe damage to the road and closed to the general public.
If you are trying to leave Coromandel the way out is through Whitianga to Tairua, traffic delays are expected.
All local Council roads are open, with Colville Rd open to one and expected to be open to two lanes later today.
In Whangamata some residents are experiencing discoloration of their water supply. One of the water sources is higher in an iron oxide which makes it a yellowish colour. The team have checked the filters but as they say no health issue.
The Pauanui water treatment plant was able to recommence production of water from late yesterday, but customers are asked to conserve water as demand is met and reservoirs refilled. The water being supplied in Pauanui throughout the weather event has remained safe and potable with no issues with quality.
The power still seems to be on and off across the District. Check here for further details or contact your electricity company
Hannfords Wharf is closed until it can be inspected by a marine engineer later today. Coromandel Wharf appears OK but will also be inspected. A number of private jetties leading off the main wharf there have been damaged and appear unsafe.
DOC has confirmed the Pinnacles Hut is open. The road is open with some metal washout but still driveable for two wheel vehicles.
The Thames to Kopu and Kopu to Kaiaua sections of the Hauraki Rail Trail are likely to be closed due to damage to the foreshore stopbanks along which it runs. That damage will be inspected next week.
More on SunLive...