What's On: Night Owl Cinema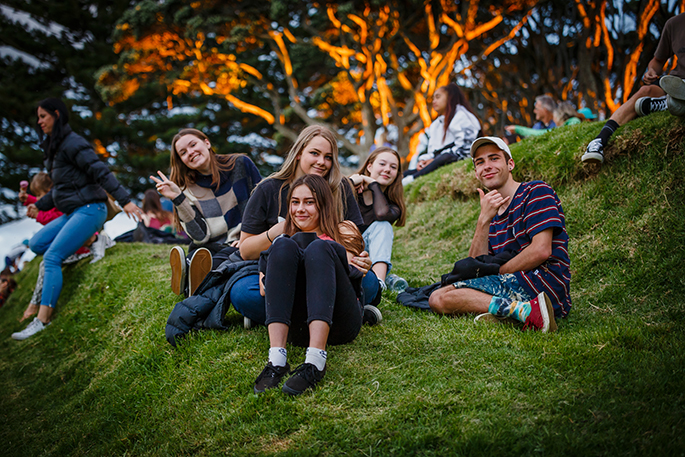 Morning all! I hope you and your home survived the heavy rain and flooding that loomed over the Bay yesterday.
Fortunately for you, the weather is expected to be a little bit better, with the worst of the weather moving its way past New Zealand later today.
According to Weather Watch swells of over 8 metres are expected at sea to the east of Wairarapa in the afternoon sending large waves up the east coast. Surfers are being advised to take extreme care.
Despite conditions being more favourable in the east of the Upper North Island, around Auckland, Coromandel Peninsula and Bay of Plenty, people should still expect stronger rips today with the king tides and choppy conditions out there.
A few events for today have also chosen to not back down to the threatening weather.
Night Owl cinema is starting their season of outdoor cinema experiences tonight leading with the award-winning film Thor: Ragnarok, directed by Kiwi Taika Waititi.
The regular outdoor community event will showcase unique cinematic experiences under the starsin a number of local reserves in the Bay over the summer.
The event will feature '100% Summer' campaign activities, which includes games and activities and healthy food options for young people to enjoy.
"The 100% Summer series offers events that are totally accessible to young people. Being free, and their mobile nature, means that all young people who want to participate, can," says Becks Watts of Tauranga Youth Development.
The film will be held at Mount Drury Reserve in Mount Maunganui at 7pm. Entertainment and food before the screening which starts at dark.
NOTE: Night Owl Cinema has been postponed until Sunday.
The movie starts at approx 8:45 pm (when it gets dark), with a running time of 2 hours 10 minutes. *Rating PG 13 (or M)
Door sales will be available on the night. Ticket prices: Adults $5, children aged 16 and under $2, and under 5s attend free.
There will also be the South Pacific Super Saloon Championship at Baypark Family Speedway which will be the perfect warm-up for the New Zealand Super Saloon Championship on January 13, with contenders for the national title wanting to get some track time in.
As well as super saloon action there will be sprint cars, saloons, stock cars and the V6 wingless sprint cars.
Gates open this Saturday, January 6, at 5pm with racing starting 6.30pm.
Tickets can be purchased via the Baypark Family Speedway website: www.bayparkspeedway.co.nz or at the gate on the night.
Prices: Adults $25, seniors and children aged 5-15 years $10, family (two adults plus three children) $60. Children under five attend free.
Saturday 6 January
Art in Park Art in Park - art for sale - weather permitting - Tauranga Society of Artists inc. 9am - 4pm
Beth El Messianic Family Come celebrate family life with Jews & Gentiles who meet & worship as Yeshua (Jesus) & all the early believers did. 10am Otumoetai Primary. BethEl.org.nz
Dragon Boating - Womens Give it a Go Paddling Sessions held weekly Mon/Thurs 5:30pm & Sat 7:30am, Sulphur Point. RSVP by Txt Brooke 022 078 2308 for info pack.
LOL Laughter Wellness Discover the joy & health benefits of hearty laughter. 11:00-11:45am Arataki Community Centre, Zambuk Way, Mt Maunganui. Koha. Ph Trish 022 036 6768 Email lollaughterwellness@gmail.com
Mt. Maunganui Menz Shed Wednesdays & Thursdays 9am at 6/45 Aviation Ave. New members welcome. Go to www.menzshed.org.nz or Ph Keith Dickson 021 0259 6454
Otumoetai Tennis Club Adult Tennis on Saturdays at Bellevue Park, 75 Windsor Road, Bellevue. Start time 1:30pm. Enquiries Fred 544 5088
Qigong With Michael Classes: Mon 1-2pm (weekly) Whisp Alternative Health Club Shop 24 Piccadilly Arcade, 43 Devonport Rd Sat: 9:30am-10:30am (weekly) Health Quarters 67 Willow St. Bookings 021 735 798 www.michaelgoodhue.com
Sport BOP Bike Month From group rides and bike maintenance to mountain biking, there's something for everyone in our Bike Month calendars. Plus prizes to be won! www.sportbop.co.nz/bike-month
Tauranga Rotary Easter Booksale Please donate books, records, Cds, Dvds, Jigsaws & Sheet music for next Rotary Charity Book sale. Ph Anne 543 5350 or Ross 544 0817
Te Puke Menz Shed Mondays, Wednesdays & Saturdays @ 9am at 86B No. 3 Road Te Puke. New members welcome. Ph 573 8655 or 573 6779
The Way Messianic Meeting We are a community group that teaches & practices 'One New Man' principles. All ages welcome. 10am, Hillier Ctr, Mt Maunganui. Ph 021 0226 3515
WANTED Books/CDs/DVDs/Puzzles For Mount Lions & Lioness Clubs Book Fair. Drop-off points or collection ph Pip 543 2175 or Stella 575 0685 or text details to 021 033 0795
More on SunLive...