Warning to stay off roads as storm hits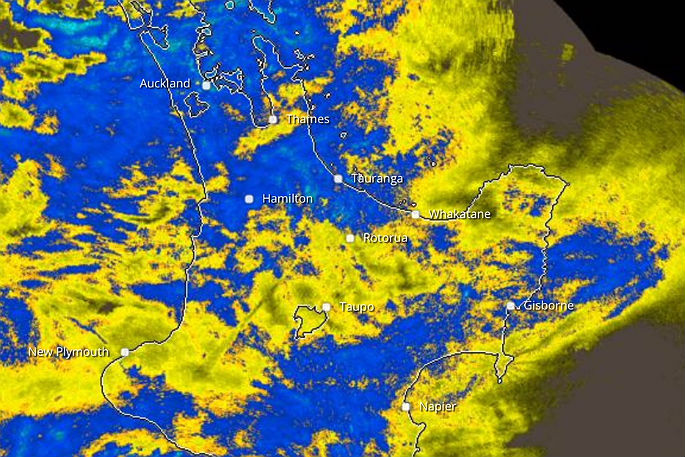 With heavy rain and wind forecast for the Coromandel and Bay of Plenty through this evening and early Friday, Civil Defence is advising people to stay off the roads if they can or to anyone with plans to complete their journey before nightfall.
MetService's forecast is for 90 to 130mm rain to fall between Thursday afternoon and 1am Friday, with peak intensities of 20 to 30mm/h, especially this evening.
This rainfall may cause streams and rivers to rise rapidly, surface flooding and slips are also possible.
Metservice has also issued a strong wind warning, forecasting northeasterlies that could gust up to 120km/h in exposed places.
"Tie down trampolines and any other loose objects around your place," says our Civil Defence Controller Garry Towler.
The MetServce weather warning says: "The combination of strong winds and high tides may also cause coastal inundation in [the] Coromandel and Bay of Plenty including the Firth of Thames from this evening to Friday morning."
Thames high tide: 10:03pm Thursday; 10:37am Friday
Whitianga high tide: 9:33pm Thursday; 10:10am Friday
"If you see a threat to life or property, call emergency services on 111. Council staff and members of Fire and Emergency New Zealand have done a sweep of the Coromandel, asking campers in low-lying areas to move to higher ground.
"DOC has closed the Pinnacles Hut in the Coromandel Forest Park and have strongly advised campers to leave the Kauaeranga Valley."
Some events have been cancelled or postponed, including Sol3 Mio's concert in Whangamata tonight, which has now been rescheduled for Friday at the same venue and time.
The Matarangi Beach summer festival events tomorrow have been cancelled. The Pauanui Summer Series, The King of Tangi, will be held on Sunday 7 January instead of Friday. Check with event organisers about other events.
Meanwhile, in Tauranga, Mount Fire Brigade has pulled a marquee from the rof off Mount College.
Northern Fire Communications shift manager Paul Radden says they have received a lot of calls for the area.
Tauranga Fire Brigade was called to Sylvania Drive where a tree is over a house.
There is also reports of a car and caravan jack-knifed on State Highway 2, near Katikati.
One lane is blocked and no injuries have been reported so far.
More on SunLive...