Wild weather starts to hit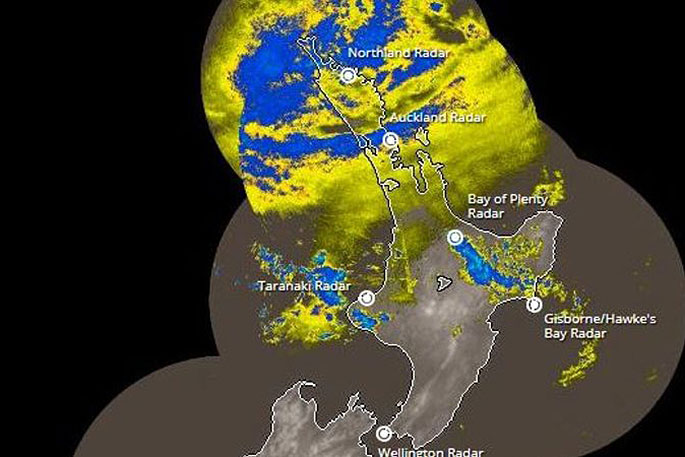 The North Island is being warned to batten down the hatches as a large front moves in from the north-west this morning.
MetService forecaster Nick Zacher says the rain would move in fast and hit the top half of the island hard with 50-100 millimetres of rain predicted to fall in the morning.
"It's going to start getting stronger and stronger and it's going to deepen pretty rapidly."
"As the morning goes on we're expecting heavier rain from 7am onwards in Northland and towards late morning in Coromandel and the Bay of Plenty region."
Send us your weather photos and videos: iwitness@radionz.co.nz
Mr Zacher says strong northerly winds would hit at the same time and some could reach gale-force in higher areas.
He says this would have an impact on the surf.
"So we are experiencing a king-tide at the moment due to the full moon and so with this we are seeing some wind-driven storm surge from this low pressure system. So we are expecting a little bit of coastal inundation. This very well could affect the Tamaki Drive area and some coastal regions as well."
Mr Zacher says the biggest threat to safety would be surface flooding.
"With the dry weather we've been having, a lot of this rain is going to pool and not really go anywhere so we are going to expect some significant flooding in areas of the heaviest rainfall."
In the afternoon the rain was expected to move on and make its way down the country.
"As the day moves on in the afternoon we're going to see the rain move southwards Taranaki, central high-country and even the Tararua range and by tomorrow night it's going to be heaviest towards Marlborough and the Nelson region."
The storm is expected to have a very impressive satellite presentation come Friday morning as it moves toward landfall in the western North Island ... koru-shaped weather system pic.twitter.com/TT04YBIyMm

— NIWA Weather (@NiwaWeather) January 3, 2018
By Friday night it would have reached Christchurch, but would not hang around long.
"As the front moves south-east of Cook Strait, it will cause showers on the east of the South Island but move further south into the weekend."
The West Coast which lucked out with sunny skies on Christmas Day was picked to be the only place in the country to miss out on the recent wet weather.
"So surprisingly the sunniest spot we're going to see is the West Coast of the South Island."
Mr Zacher says the weather was expected to clear from Sunday onwards but would not last with another front predicted to hit the country mid-next week.
Forecast for the main centres
Auckland
Rain developing this morning, heavy at times. Northeasterlies, rising to gale gusting 120 km​/​h this evening.
Tauranga
Periods of rain, persistent and heavy from afternoon. Northeasterlies, gale gusting 120 km​/​h from late evening.
Hamilton
Rain developing late morning. Northeasterlies strengthening, gusting 100 km​/​h this evening.
Wellington
Cloudy periods increasing. A few showers from afternoon, then rain from evening. Evening southeasterlies.
Christchurch
Often cloudy, afternoon fine spells. Northeasterly breezes.
Dunedin
Cloudy periods, chance afternoon shower. Light winds.
Invercargill
Often cloudy with occasional showers. Light winds.
- MetService
More on SunLive...