New Year's Eve: 'Our best in years'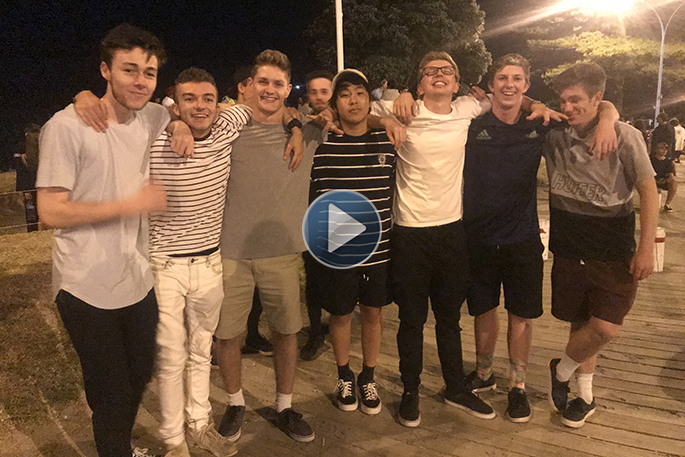 Click the image above to watch the video
Tauranga Police are happy with what they say was a 'very successful' New Year's Eve.
Western Bay of Plenty acting area commander Inspector Karl Wright-St Clair says there was a 'really good vibe' in the city, while council-run family events at Papamoa and the waterfront were 'fantastic'.
"This has been an outstanding New Year's, our best in years," he says. "It was more like a busy weekend night."
He says five alcohol arrests were made in Mount Maunganui and nine in Tauranga over the night.
Tauranga Hospital Emergency Department clinical lead Dr Derek Sage says additional staff were rostered on in anticipation of a busy night, with the ED coping well.
"Around 90 per cent of presentations were alcohol related, so that is either the direct results of over drinking, or related physical injuries because of fights or falling over or the like. We also had some patients whose pre-existing medical conditions meant that it probably wasn't wise to be drinking in the first place," he says.
"Whilst some of the patients may have used inappropriate language at times there was no physical violence towards staff.
"In general I would say that, although still busy, the last two years have been somewhat quieter than years we've had before. It's hard to say why that is."
He expects the ED to remain busy until the middle of next week.
"There are several reasons for that including the number of holidaymakers in town, the public holidays and reduced GP availability during the holiday season."
Tauranga Mayor Greg Brownless spent the evening on The Stand barbecuing free sausages for hungry revellers, and says he didn't hear of any major problems on the night.
"I've got sausage shoulder today. Not sure how many we did, but we were full-on from 6pm when we started," he says.
"It was a happy, family atmosphere on the waterfront – people were celebrating and not being stupid or belligerent. That's sometimes been the problem with New Year's Eve celebrations in the past."
2017 was the second year in which Tauranga City Council did not put on any entertainment at the Mount Maunganui Main Beach, instead opting for more family-friendly celebrations at other locations in the city.
More on SunLive...