What's On? New Year's Day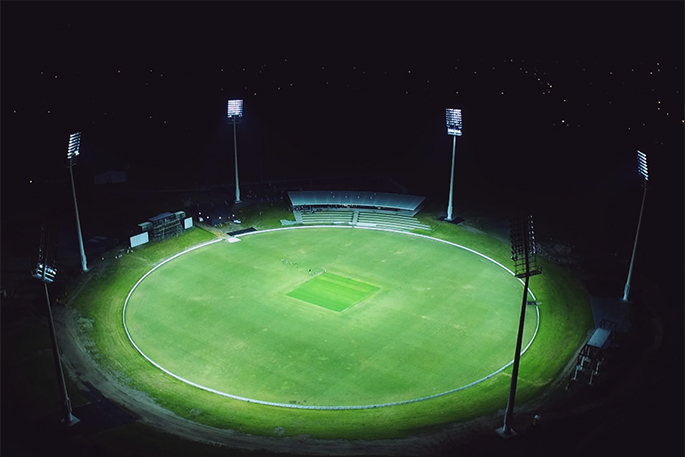 Kia ora, folks, and welcome to the first day of 2018.
For many, this will be the beginning of an ambitious journey of change and personal development, as resolutions such as weight loss, eating healthier, changing jobs or finding love are firmly agreed upon in a sacred contract with your own inner voice.
For others, it's a chance to sleep off a hangover and maybe go to the beach.
If you're in the latter group, make the most of the weather today, as the week ahead looks to be wet. The forecast is for fine spells, with a chance of an afternoon or evening shower. The high is going to be 24 degrees, while the low overnight should be around 18.
Tonight the Bay Oval will host the second Blackcaps T20 match against the West Indies. Tickets are from just $5, with all the action starting at 7pm. Bring and blanket and a hamper/chilly bin and enjoy some international cricket in our own backyard.
Bay Dreams, the city's premier New Year's music festival, is also kicking off with a pre-party at Baypark. A stellar line-up of acts from around the globe will open festivities today, including US rapper and MC Danny Brown, who has been at the forefront of the hip-hop experimentation movement since his 2011 breakthrough album XXX.
He went on to release Atrocity Exhibition – one of the freshest and boldest-sounding rap albums in recent memory; a sonic swirl inspired by the work of Talking Heads and Joy Division that sounded like nothing else from the past or present. His appearance at the Bay Dreams pre-party will be Brown's only show in New Zealand.
The pre-party, which warms crowds up for the main event tomorrow, starts at 4pm. Tickets can be purchased online here.
Traffic is expected to be heavy around Baypark in the next couple of days, so it might pay to avoid unnecessary travel, if you don't want to spend the first few days of 2018 stuck in queues.
For more of What's On, check out today's other listings below:
WHAT'S ON – Monday, January 1:
Alcoholics Anonymous
Open meeting every Monday & Friday mornings at 10am. Wesley Methodist Church, 13th Ave & Cameron Rd. Ph 0800 229 6757
Argentine Tango
The dance that makes you feel" Come challenge your senses. *FREE Intro classes. *No partner required...(extra guys needed). FB/"Tango-in-Tauranga or Ph/Text Denise 020 4006 1340
Breakfast Challenge
5 Day Healthy Breakfast Challenge. We'll help you get healthy summer. TXT Svetlana 027 616 2124
Computer Help for Individuals
Need help to use your computer, iPad, tablet, eReader, phone or other device. Contact the Library to book a lesson with one of our tutors. Phone 577 7177
Dragon Boating - Womens
Give it a Go Paddling Sessions held weekly Mon/Thurs 5:30pm & Sat 7:30am, Sulphur Point. RSVP by Txt Brooke 022 078 2308 for info pack.
Mahjong
Visitors & Beginners welcome (free teaching available) 12:45-4pm Tauranga South Bowling Club 11th Ave. Ph Shirley 576 0014
Plunket Car Seat Clinic
Is your baby's car seat safely installed? 471 Devonport Road, Tauranga. Monday & Thursday 10am-2pm. Ph 578 7813 no appointment necessary.
Qigong With Michael
Classes: Mon 1-2pm (weekly) Whisp Alternative Health Club Shop 24 Piccadilly Arcade, 43 Devonport Rd Sat: 9:30am-10:30am (weekly) Health Quarters 67 Willow St. Bookings 021 735 798 www.michaelgoodhue.com
SEQUENCE DANCING TE PUKE
Free Dancing. Join us, with partner, at Citizens Club Te Puke. 6:30-8:30pm. Enquiries 027 654 1569
Sport BOP Bike Month
From group rides and bike maintenance to mountain biking, there's something for everyone in our Bike Month calendars. Plus prizes to be won! www.sportbop.co.nz/bike-month
Tauranga Rock'n'Roll Club
Lessons & Club Dancing @ Legion of Frontiersmen Hall, 165 Elizabeth Street, Tauranga. Ph Malcolm 027 592 7240 or view www.taurangarocknrollclub.org.nz for details.
Tauranga Rotary Easter Booksale
Please donate books, records, Cds, Dvds, Jigsaws & Sheet music for next Rotary Charity Book sale. Ph Anne 543 5350 or Ross 544 0817
Tauranga Senior Citizens Club
CARDS 500 & Bridge Mon & Thurs.INDOOR BOWLS Tue. Wed. Sat.14 Norris St. (behind PaknSave) 12.45pm 1pm Entry $2.00 includes afternoon tea.New Members Welcome.
Womens' Art Group
We meet every Monday 9am-12pm at 68 1st Avenue. New members very welcome. Ph Annie 543 2108
Zonta Tauranga
Championing Women's Causes welcomes you to meet others likeminded. Great speakers, a fabulous meal & fun at Tauranga Club. Every 2nd Monday 5.30pm. Suzy 021 266 5044
More on SunLive...