Tauranga heralds in 2018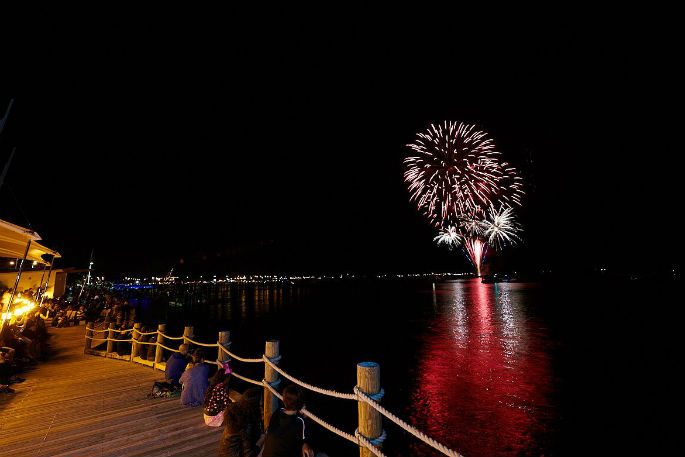 Tauranga kicked off the new year with a fantastic fireworks display that lit up the sky at midnight and welcomed the new year for one of New Zealand's most popular summer holiday destination.

Mayor Greg Brownless says everything went as expected for New Year's Eve in Tauranga.

"Our aim was to welcome the new year in a safe but enjoyable way so everyone can celebrate in a welcoming environment.'

The 9.30pm fireworks display on the Tauranga waterfront and at Gordon Spratt Reserve in Papamoa went well and was well attended.

"I was delighted to see all these families coming down to the waterfront and celebrating the new year together.


"We are glad things went smoothly on the night. Council's aim to work towards a safer environment for our residents and visitors paid off. We've also seen that many local businesses took the chance and put their own organised events on for New Year's Eve. It has been a fairly quiet night for all of us. How New Year's Eve will look in the future is yet to be determined," says Greg.

"It was a wonderful start to the year and the celebrations showed that Tauranga truly is a destination loved by many and a great place to live, work and play with great events and a terrific community spirit."

Upwards of 2000 people flocked to the CBD to enjoy the free entertainment for all ages, and around 3000 joined in the community festivities in Papamoa's Gordon Spratt Reserve.

In the city centre, families and friends welcomed in the new year with live music and a waterfront barbecue, followed by a spectacular fireworks display at the family-friendly time of 9.30pm.

Greg says the New Year's Eve celebrations wouldn't have been such a success without the community's support.

"I'd like to thank the community for getting behind our celebrations and making New Year's Eve 2017 truly something to remember, and to all the local residents for supporting this fantastic event.

"Our events team worked closely with Police, emergency services, security companies and roading contractors when planning the events, to ensure everyone can enjoy a safe environment for an unforgettable start to the new year. Thanks to all businesses for their support."


There's still a great line-up of summer events on offer, including leading festivals and concerts such as Bay Dreams, Beast of a Feast, Bryan Adams, Sol3Mio as well as the International T20 Series for you to welcome the New Year.
A series of community events and activities can be enjoyed by all­ audiences across the city.
There will be something for everyone with Night Owl Cinema, Teddy Bears Picnic, Gourmet Night Markets and more.
Tauranga's Youth Development team will bring their 100 per cent Summer without substances programme featuring basketball, waterslide, dance workshops and more to local communities in Welcome Bay, Arataki, Merivale, Gate Pa, Mount Maunganui this summer.

Check out www.mytauranga.co.nz for all events happening.
More on SunLive...