Bay Dreams traffic warning and info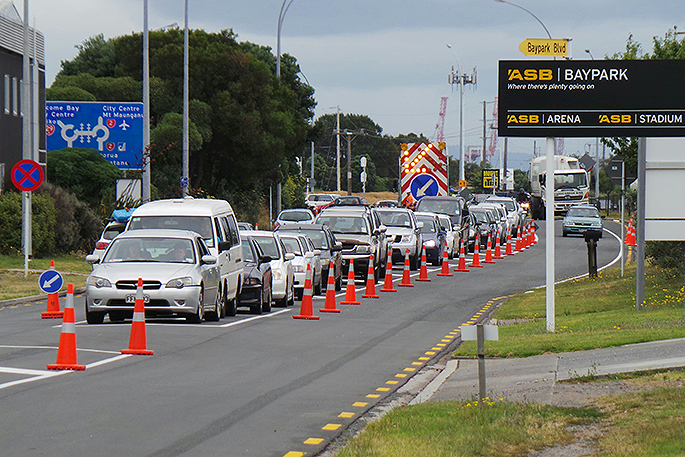 Traffic delays are being predicted as thousands of people descend on Tauranga for Bay Dreams 2018.
The promoter of one of Tauranga's biggest music festivals has key transport information for Tauranga residents, surrounding traffic and affected roads.
"There will be significant traffic management in place along SH2, SH29A and Truman Lane, with installation commencing from 8am on January 2," says a statement released to SunLive today.
"There will be an influx of 18,000 into Tauranga travelling from outside the region."
It's suggested to keep travel on affected roads to essential travel on January 2 between 11.3am-5pm and 9pm-11pm.
Hot spots include: Bayfair area, Blake Park, Hewletts Road, Maunganui Road, SH2, SH29A - especially around Windermere, The Lakes and Greerton roundabouts and Baypark.
"Heavy volume of traffic from Auckland and the north and coming from Rhythm and Vines in Gisborne," says the event promoter
"Expect major delays around the hotspots, especially Hewletts Road and Sandhurst interchange with both the Bay Dreams traffic and the existing temporary traffic management already in place for the Bayfair to Baypark flyover project."
Tickets to Bay Dreams, which kicks off with a warm-up party on January 1, sold out in record time this year. A final release of 2000 tickets was recently added, with very limited numbers still available https://www.theticketfairy.com
Bay Dreams 2018 will feature four stages and world-class production, which includes state-of-the art visuals, pyrotechnics, lighting and sound.
"Camping is available again, and promoters have gone the extra mile creating a new experience, Dream City, which hosts a massive central entertainment area, a licensed bar, a full marketplace with a diverse range of food and drinks and late night entertainment, as well as games and activities."
Tickets from www.baydreams.co.nz
BAY DREAMS 2018 – January 1 and January 2 lineup
DJ Snake, Kehlani, Machine Gun Kelly, Big Shaq, Foster The People, Pendulum, Flatbush Zombies, Danny Brown, NAO, $uicideboy$, Maribou State, Opiuo, Ocean Alley, The Upbeats, Krafty Kuts & Chali 2NA, Sachi, Theia, Bailey Wiley, SWIDT, The Black Seeds, Sons of Zion, Hybrid Minds, FKJ, Home Brew, Concord Dawn, Deadbeat, P-Money, Eptic, Stickybuds, PhaseOne, Montell2009, DJ Ruse, Written By Wolves, Classixx, State of Mind, Summer Thieves, Swindail, Manalion, Cyantific, Koven, Trei, Matrix & Futurebound, Lee Mvtthews, Phaseone, Skism, A.Skillz, Truth, Willaris. K, Flowidus, Spectrum, Nyxen, Cam Aldridge, T1R, Jason Davis, TwentyTwo.
More on SunLive...