Once-in-a-lifetime trip to Israel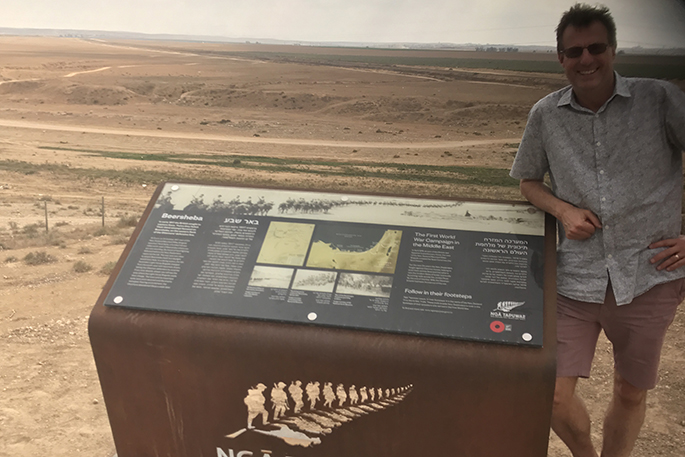 Tauranga Deputy Mayor Kelvin Clout and his wife Kathryn recently returned from a trip to Israel where they were part of commemorations for New Zealand's role in liberating the Holy Land during the First World War.

The Clouts, who paid for the trip themselves, joined other New Zealanders at Rishon LeZion, the fourth-largest city in Israel, near where the Battle of Ayun Kara took place.
The New Zealanders were there to mark the centenary of the battle, which took place on November 14, 1917, and involved the New Zealand Mounted Rifles Brigade defeating Ottoman Turk forces.
"The councils of Rishon LeZion and Ness Ziona [another nearby city] organised a field trip to the battle site with a local historian," says Kelvin. "I was fortunate to be able to speak on behalf of the group, alongside the New Zealand ambassador."
New Zealand's contribution to the campaign in the Middle Eastern theatre of the war is valued by the Israelis, who see it as a factor in helping liberate the Jewish settlers from Ottoman rule, allowing them to eventually create the state of Israel.
"It was fascinating to be there and hear the history," says Kathryn. "We were very honoured and respected as New Zealanders."
The Clouts also took the opportunity to take in the sights while visiting Israel, spending more than two weeks in the country. They were based in Tel Aviv, Israel's financial and technological hub, for a few days, where they had to get to grips with driving on the other side of the road along narrow, busy streets congested with traffic.
"It makes me feel our traffic problems aren't all that bad," says Kelvin.
"We loved the markets though," Kathryn adds. "They were fascinating – every culture was represented, and there was almost a sensory overload of smells and people."
They visited Jerusalem and were surprised at how much of a sprawl the city is.
"Everywhere you turn there's history," says Kathryn. "We tried to visit as many holy sites as possible."
They enjoyed dining at Israeli restaurants, including a 15-course degustation meal in Jerusalem, but were out of luck when they visited a kibbutz.
"We were really looking forward to having some meat, but it turned out the entire community was vegetarian," says Kelvin. "So it was another round of hummus and falafel for us!"
They also had lunch in the Golan Heights in a beautiful vineyard surrounded by desolate land. When the Clouts asked about it, they were told the area was still land-mined from previous wars.
"It's a land of paradox," says Kathryn. "There are pockets of exquisite land fenced off with barbed wire."
Other highlights include visiting the Dead Sea (where yes, you really can't sink) and the ruins of Masada.
As it took four days of travelling just to get there and back, the Clouts say they won't be going back any time soon, as much as they enjoyed the experience. "It was a great adventure," says Kelvin.
"Travel is such an eye-opener," says Kathryn. "You really appreciate how clean and green New Zealand is in comparison."
Floating in the Dead Sea.
More on SunLive...