Stranded orca rescued on Papamoa Beach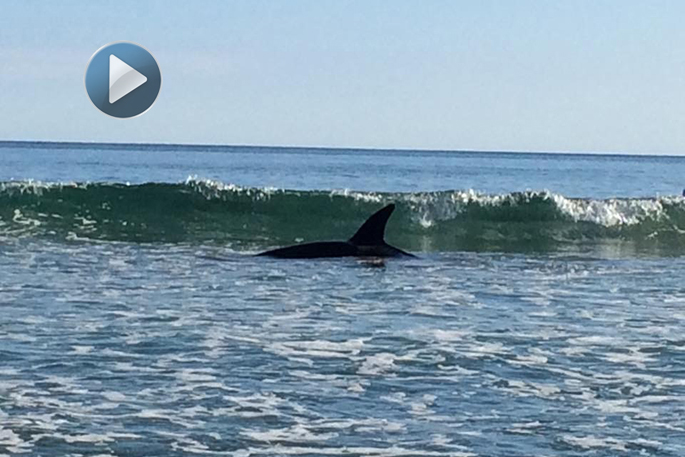 Click the image above to watch the video
An orca that was found stranded on Papamoa Beach was freed by some passing by locals this morning.
Ben Waru was walking along the beach at 8am with his family and mate Dan Jackson when the group saw three orcas in the water.
"They were just playing and then all of a sudden they turned around. The water started to churn and we thought they were chasing fish or stingrays," says Ben.
Ben and Dan watched to see if the orca would get itself out, but after a few minutes it was still stuck.
The pair got into waist deep water and were joined by two other men and a dog to help push the orca further out to sea.
"We started walking towards the whale and then we decided to jump in and help guide it out," says Ben.
"Jackson has saved a whale before and told us to stay away from its fin, so we wouldn't hurt it.
"It was being hit by the waves, pushing it sideways, so we tried to face it towards the ocean.
Ken Wright, who also took part in the rescue, says it was amazing to be able to see the orca up close and is still buzzing over the experience.
"I'm feeling great- I got to help rescue a stranded orca on Papamoa beach, got to touch it and help push it off, and got soaked by the tail splash."
"It was fantastic to get up close and personal with something so powerful, there was about ten of us just waded in, you have to hope that doing a good deed you are not going to get harmed, when it splashed its tail we all got soaked."
-Additional reporting from Stuff.
More on SunLive...