Shane Jones talks regional development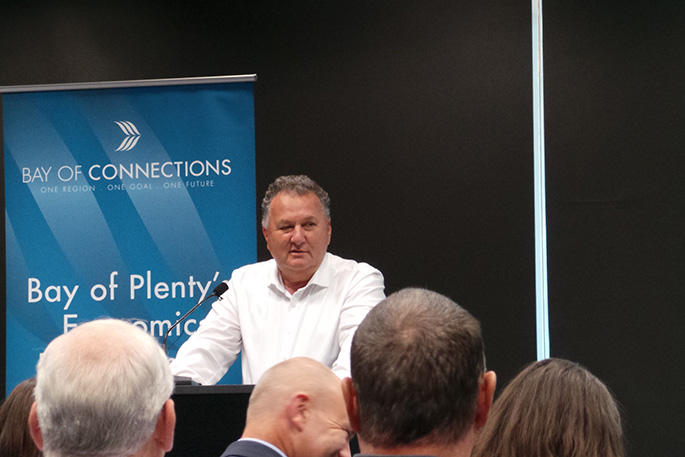 Click the image above to view slideshow
New Regional Economic Development Minister Shane Jones visited Tauranga today as part of Bay of Connections celebrating their 10 year anniversary.
The yearly report launch for the regional growth framework was held at ASB Arena in Mount Maunganui this afternoon.
Bay of Connections governance group chairman Doug Leeder says work over the past decade, much of which has started to bear tangible results throughout this year, positions the region to build on its success with a new government keen to focus on regional economic development.
"We're confident our revised strategy is well-placed to be built upon with the support and agreement of both local and central government," says Doug.
The proposed development of a container terminal at Kawerau is the sort of project Bay of Connections is advocating for in the region, says Doug.
After a brief speech by Bay of Connections portfolio manager Cheryl Lewis, who shared an anecdote about meeting Shane Jones 15 years ago and being inspired by his passion for aquaculture, the minister was introduced and given the floor.
He began by acknowledging Bay of Plenty MP Todd Muller, saying, "I think you came into politics when I was on sabbatical."
"We missed you," was Todd's reply from the audience.
The minister then told the audience he brought much 'aroha' from his 'rangatira', Winston Peters, who had supposedly told Shane to 'remind them about the bridge'.
He then got down to business explaining some of what he hoped to achieve in his new ministerial role.
"The pledge when we formed this coalition was to go beyond what central government has historically done in the regions," says Shane.
"We will be investing capital on projects that need assistance to unleash the productivity of the regions."
He believes much of the expenditure of the billion dollar regional development fund will go on infrastructure. There will also be different levels of sign-off required for different projects – smaller initiatives may only require a senior official, while the largest will need entire cabinet approval.
He also cautions that climate change 'is real', and that the government will be balancing regional projects against their environmental impact.
"We will not be continuing with 'uber, mega' irrigation schemes. But where there are local opportunities for environmentally-robust schemes for water storage, we can make that happen."
The meeting concluded just after 1pm with Shane and Cheryl cutting the anniversary cake.
More on SunLive...