Donation gives children's wards a boost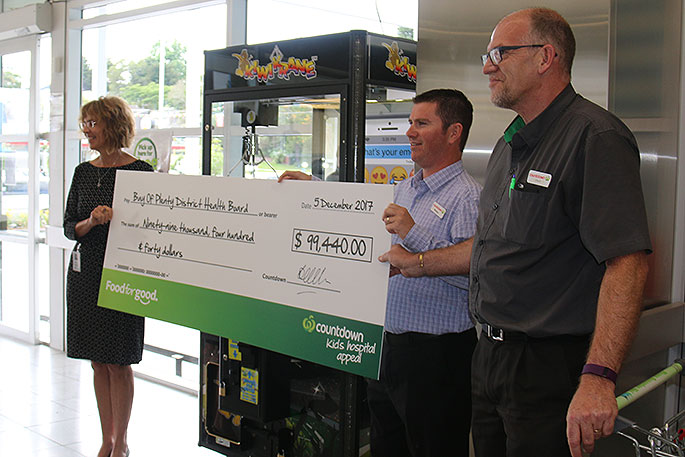 Tauranga and Whakatane hospitals will now be able to provide much-needed medical equipment for their children's wards after a generous donation by Countdown Supermarkets.
A total of $99,440 was received by the Bay of Plenty District Health Board this week, which will now go towards crucial medical equipment.
The donation is a result of the Countdown Kids Hospital Appeal, which helps fundraise for 11 hospitals across the country including Tauranga and Whakatane.
Bay of Plenty District Health Board chief executive Helen Mason says the appeal has helped to raise $781,607 throughout 2008-2016.
"It feels amazing to think that we've almost received $800,000 over the course of eight years.
"I think about our paediatric patients who are part of our vulnerable population, they come in again and again with quite significant conditions, so it's amazing they can get additional support."
Last year, the donation helped to raise more than $120,000 which was used towards two pieces of equipment in the maternity unit including a Giraffe Resuscitaire and an i-STAT portable blood analyser.
In the paediatric ward patient monitors and accessories were purchased.
This year's wish list includes a long list of equipment needed by Tauranga hospital such as a Dinamap Carescape monitor, digital chair scales, reichart clear chart and portable spiromentary for the child and youth outpatient ward; an infant Giraffe Resuscitaire and ultrasound transducer for the emergency department; a Panda machine for intensive care unit; as well as oxygen saturation monitors and panda warmer for the maternity unit.
Whakatane hospital have requested for a CTG monitor and trolley.
"Not only does this equipment help our patients, but you find by having up to date equipment it also benefits staff," says Helen.
Bay of Plenty Countdown group manager Martyn Douglas is proud to be part of the initiative.
"The Countdown Kids Appeal gives us a chance to give back to our communities and bring a little bit of good and a smile to the faces of vulnerable children and their families.
"Every year the appeal is growing more, with more customers recognising and supporting it.
"It's great that our staff have gone above and beyond and partnered with the district health board to help raise these crucial funds."
More on SunLive...