Tourist admits guilt in fatal crash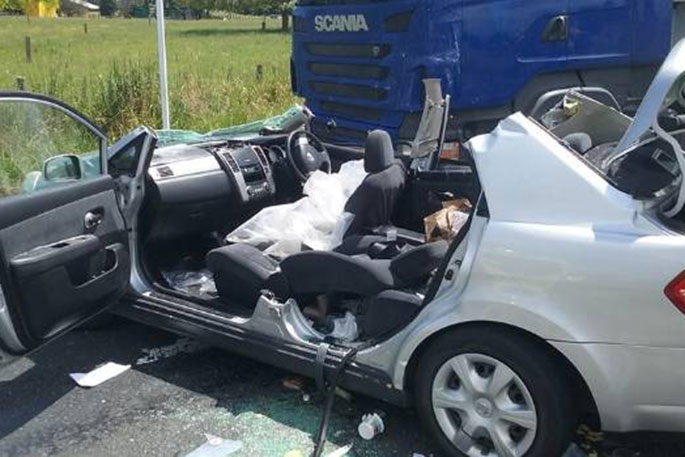 A German tourist has admitted to causing the death of his companion in a crash while on a journey up the Coromandel.
Felix Eisele, 19, appeared in Thames District Court this morning where he pleaded guilty to careless use of a motor vehicle causing the death of Melanie Dangel.
Melanie was a passenger in a car driven by Eisele who pulled out into the path of a truck on State Highway 25 on November 24.
The court heard how the 19-year-old obtained his licence in Germany in January and had limited driving experience, driving only one or two times a month until he came to New Zealand.
In Germany they drive on the right side of the road.
The pair arrived in New Zealand on September 26 and a week before the crash hired a rental car.
On the morning of the crash, the pair left Hamilton at 10.55am heading for Hot Water Beach in the Coromandel.
It was a sunny hot day and both were wearing seatbelts. Eisele driving, while Melanie read a book.
Near the intersection of State Highway 25 Eisele came to a stop.
Meanwhile, a truck and trailer was heading west towards Auckland going 80kmh in the 100kmh zone.
As the truck neared the intersection, Eisele pulled out into the path of the truck.
The truck braked hard but struck the vehicle on the driver's side, shunting both vehicles along SH25, ending up in the westbound lane.
Firefighters had to cut the pair from the mangled silver Nissan sedan.
They were both flown to Auckland City Hospital in separate rescue helicopters.
Melanie suffered serious head injuries and was in a critical condition. She died in hospital last Friday.
Eisele, who has no memory of the crash, was supported by family members including his sister when he appeared in court and pleaded guilty.
He was convicted of the careless driving causing death. The charge carries a maximum of three months jail and a $4500 fine.
His acting lawyer Roddie Sim made an application for name suppression, which was denied by Judge Burnett.
He was remanded on bail to reappear for sentencing in January.
Conditions of bail include that he not to drive a motor vehicle and surrender his passport.
More on SunLive...