Barber's mission to get men to open up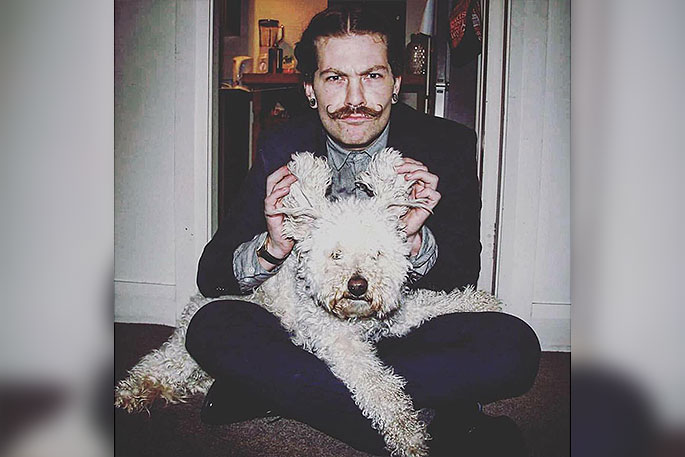 What does a Tauranga barber, his four legged companion and the open road have in common?
A mission to get men to open up about mental health.
Sam Dowdall, aka, the Barter Barber and his canine co-pilot Bobo are travelling the country in a bid to help raise awareness and challenge current perceptions about men's health.
He says the mission started early this year, after years of planning.
It's a journey which completely relies on the kindness of others, he says.
"I swap goods and services for haircuts. We just kind of pull up in our mobile caravan which is a barber shop and we have an awning we can pull out to use or we can go into people's businesses and we just trade.
"People usually bring us petrol vouchers or food, which helps us on our way. Homemade preserves are big at the moment, I've got so many preserves.
"When we started off we were given so many cans of spaghetti and baked beans that I never want to see one again, but now it's switched to preserves, which I'm not mad about."
Sam says his travels were a way of escaping a lifestyle, which he had become tired of.
"I don't really agree with the fiscal system, I don't think it's made for everyone so with the bartering I saw there was a way to get out of that.
"Originally I wanted to do this by travelling around talking to other barbers to find out what was uniquely kiwi about the trade.
"Then I ended up losing quite a few friends to suicide over the last year and quite a few clients as well, all being male. The more I delved into the issue the more I saw a problem."
"It was about putting my best foot forward to give some education around mental health, communication and masculinity, things which as men we haven't really addressed as a gender.
"We're getting out to factories, farms and anywhere that's male dominated, just having conversations like 'hey, how do we talk about our friends, how do we talk about our feelings.'"
He's currently visited areas in the greater Bay of Plenty, provinces of Rotorua, Kawerau alongside a stop to Edgecumbe just after the flooding. He hopes to hit every town in the country
"A lot of places where we're going, especially rural communities where there has been a lot of suicides already, they know things need to change.
"When I first went out there like 'hey guys it's actually okay to talk', some of the guys who I thought would be the most stoic were actually the first to open up and engage because they can see the issue.
"It almost seems as if they need someone to remind them that it's not emasculating to talk about their health.
"A lot of the barriers men face when it comes to having these kinds of conversation is that 'man up' and 'she'll be right' attitude, which we have here in New Zealand.
"It's really important to give your guys a call, give your brother and your dad a call and ask really how they're going."
Sam says it can be really hard, especially when someone doesn't want to talk.
"But it's when they don't want to talk that it can be most effective."
He hopes to enable men with the tools to be able to communicate and understand more about mental health.
"In New Zealand we see mental health as a binary thing, it's on or off, you're either well or unwell.
"The message we're trying to put out is it's a spectrum, some days you're 15 per cent some days you're 100 per cent, but when you are at 15 per cent that's normal and it's okay."
Joining him for the ride is Bo, a poodle-cross and trained service dog.
"He's a rescue dog, but he's also a trained emotional support animal," says Sam. "He actually helps me with a lot of the work I do, he's super well trained.
"When guys talk, they need to use their hands, and their hands need to be busy before they open up."
That's where Bo comes in.
Photo: James Stanbridge.
"He's really good for that. If we're talking about suicide or anything like that, it helps to take the edge off, just having someone sitting on your lap that's so loving."
Sam works with a diverse range of groups, which he can be either invited out to or happen to stumble across in his travels.
"I work with homeless people to bank owners, so the diversity I see is not only socio-economical but geographical too.
"Through experience in constantly working with these completely different groups of guys, I've learnt to tailor my message.
"I do a lot of work with men in Wellington who are quite self-aware and I can really delve into issues like social gender norms whereas if I was working with a group of gang members I wouldn't use those words, I'd focus on whanau.
"We have quite a few people who stay in contact with us through Facebook. I might see a guy in Hamilton and he'll message us like 'hey! There's a guy in Huntly who you need to see.'
"We use those referrals to try to touch a lot of likeminded and exciting people to come across.
"We're actually trying to film a documentary, so it's really good to have those eccentric characters that are doing positive things and trying to show guys what's positive instead of what we're doing wrong."
Sam says a lot of his work depends on mutual trust with his clients.
"Heterosexual men don't touch each other's faces, it's a really challenging thing, so as soon as you get into someone's personal space usually tell you something about themselves, which they wouldn't tell anyone else.
"It's a vulnerability thing, to get vulnerability you have to give it. I put as much of myself into it as I expect to get back."
In order to continue his travels Sam says he is now asking for an investor to come on board.
"We've been trying to find a campervan at the moment.
"Our home on wheels/mobile barber shop is having massive engine issues, but we were lucky enough that an investor came along and offered to restore the engine."
The campervan is now having crucial work done on it through until February, says Sam.
Photo: The Barter Barber/Facebook.
"At the moment we're living out the back of a car, and I'm about to go pick up a scooter to use around here.
"We'd be really keen for someone to help us out with a campervan," he says.
"I need it to be able to sleep three people, preferably as soon as humanly possible, through to mid-February.
"We understand the difficulty in the fact that this is the one time of year that people actually take their campervans out."
Despite the predicament, he remains positive.
"We are so lucky in that there are worse times of year to be living like this," says Sam. "And we are so lucky in that we have so much support and we hope to continue giving that back.
More on SunLive...