Car busts into flames after crash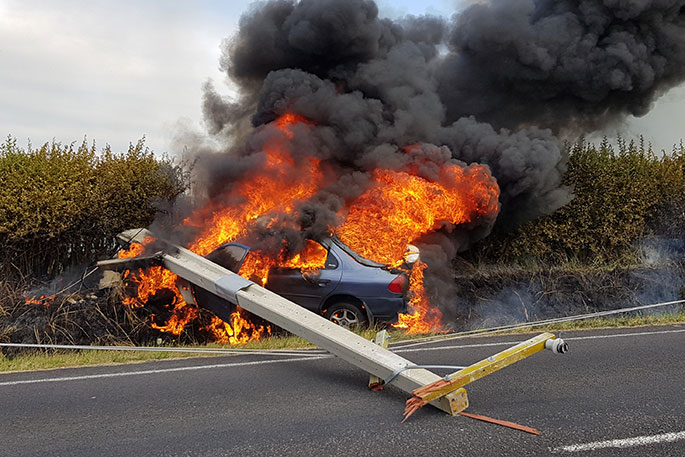 Click the image above to view slideshow
A car hitting a power pole and sparking a scrub fire is one of two crashes Western Bay of Plenty Police are investigating.
Another crash involved a motorcyclist and van on Rangiuru Road.
The second of the two crashes – the car hitting a power pole – was called into police at 4.22pm and was on Wilson Road North.
A police spokesperson says the driver of the car sustained moderate injuries in the crash.
The crash resulted in nearby scrub and the vehicle catching on fire.
The fire was quickly extinguished before it had a chance to spread too far.
"There was disruption to traffic, which was managed by contractors," says a police spokesperson.
"The lines company was advised, a tow truck was called for the vehicle, and the driver was reported to have moderate injuries."
The driver of the car was pulled to safety by members of the public that came across the accident.
Prior to this crash, police were also alerted to another involving a motorcyclist and a van on Rangiuru Road.
"The crash happened at about 4.15pm. No major injury injuries were reported and no cars were blocking the road.
"Minor injuries were received by the motorbike rider, including a sore shoulder and skin lacerations."
More on SunLive...