Building theme to continue in retirement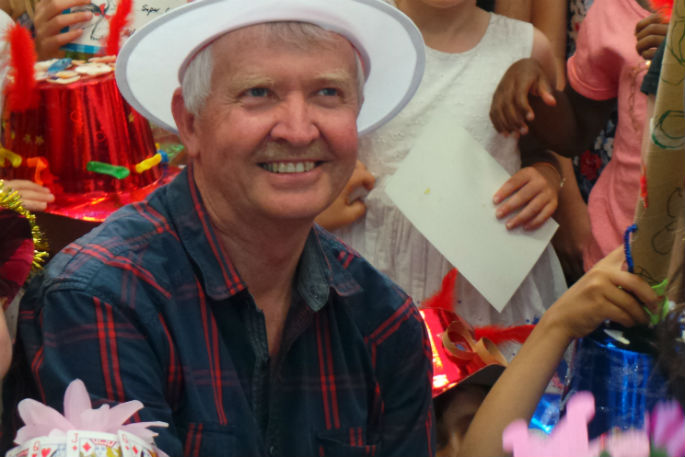 Click the image above to view slideshow
Ross Bishop's had a building project at every school he's been to and the building theme is going to continue into his retirement.
The start of his retirement was marked at the Tauranga Adventist School this week, with a helicopter ride and a mad hatter's tea party involving all the students.
The helicopter ride was his first and a bit of a surprise for Ross and his wife Lynley. They were lured to Classic Flyers for morning tea, but Ross began to suspect there was something afoot. Then they were having a look at a helicopter…
The flight took them over the school grounds beside Moffat Road, where the student body spelled out a big "THANKS" for his 27 years as principal.
They were all lying in the grass the first time the helicopter flew over, then they all jumped up waving.
Ross and Lynley returned to earth and the school to find themselves guests of honour and judges at a Mad Hatter's Tea Party, followed by lunch and a water slide down the bank.
"I've never been in a helicopter before," says Ross afterwards. "It was really nice."
Ross has been headmaster at the Bethlehem school for 27 years, starting in 1989 when it was a two classroom affair beside the highway.
It outgrew its location under Ross's leadership; three classrooms, then four using the garage.
When they began talking about relocating the school they were approached out of the blue by a buyer followed by an offer on the current land which, conveniently, is right next door to the site of the Tauranga Adventist church. God had plans for the school, says Ross.
The new five classroom school opened for the school year in 2008 and now has a roll of 125 students.
Ross finishes as headmaster next Wednesday, but the building theme will continue. He's got a house to renovate, and a recent trip to Switzerland has inspired the construction of a Swiss-themed narrow gauge model railway.
"I enjoy rail travel. We did Europe by rail two years back."
Rail travel is one of his passions, and was reflected in the icing train on the cake he cut after the Mad Hatter's Tea Party.
More on SunLive...