Teddy bears have picnic in Yatton Park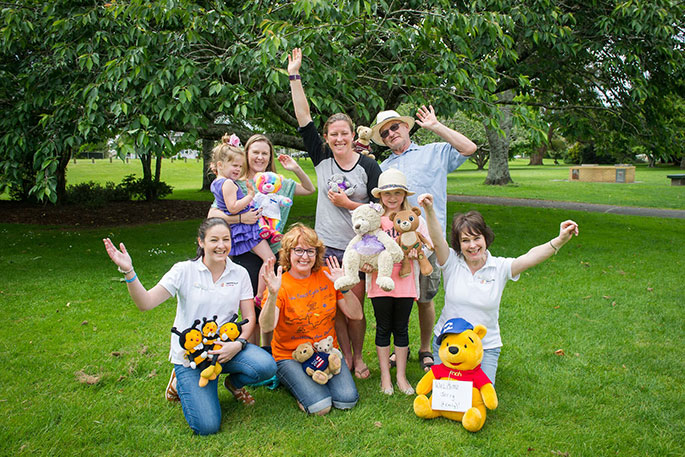 Click the image above to view slideshow
A multisport athlete and her teddy bear pal have made a fleeting stop in Tauranga, as part of a nationwide journey.
Athlete and diabetes ambassador Emily Wilson is on a mission to run, cycle, kayak and raft down the length of New Zealand in support of Diabetes Action Month this November.
The special month is part of an annual campaign to educate the public around diabetes as a major health issue that affects almost a quarter of a million New Zealanders.
Accompanying Emily on the trip will be Jerry the Bear, a special teddy bear who, like Emily, has type 1 diabetes.
Emily and Jerry started their trip on November 1 in Cape Reinga. They will also visit Hamilton, Wellington, Christchurch and Dunedin and plan to reach Bluff around December 3.
Yesterday they celebrated World Diabetes Day at Yatton Park, Tauranga, with a teddy bear picnic organised by the local branch of Diabetes NZ.
"My diabetes message is that diabetes should not stop you. Any chronic illness should not stop you from doing what you want to do," says Emily.
In November 2014 Emily was diagnosed with type 1 diabetes, an autoimmune disease that causes the body to attack its own insulin-producing cells.
She says she engages with the disease on a continuous basis to manage her blood sugar levels by balancing her food intake and insulin dosages, however this did not stop Emily from pursuing her interest in sport and adventure.
During her trip around New Zealand, Jerry the Bear will accompany her in a backpack all the way.
Jerry has been specially designed as a comfort and educational tool for kids with type 1 diabetes, and will be available through Diabetes NZ.
He has a number of embroidered patches that link with a smartphone app so that children can feed him, give him insulin and look after his wellbeing, all while learning how to manage their own condition.
For more information on Emily's timetable and fundraising details visit: https://wilem526.wixsite.com/jerrystour
Emily and Jerry the Bear with a young picnic guest.
Travel Plan for Emily Wilson
November 19 Wellington – Teddy Bear Picnic with Diabetes Youth Wellington
November 21 Nelson
November 26 Christchurch
December 3 Dunedin – Running Club with Diabetes Otago, family picnic and fun day from 11.30am-2.30pm
December 5 Invercargill
More on SunLive...