Wet weather increases Psa-V concerns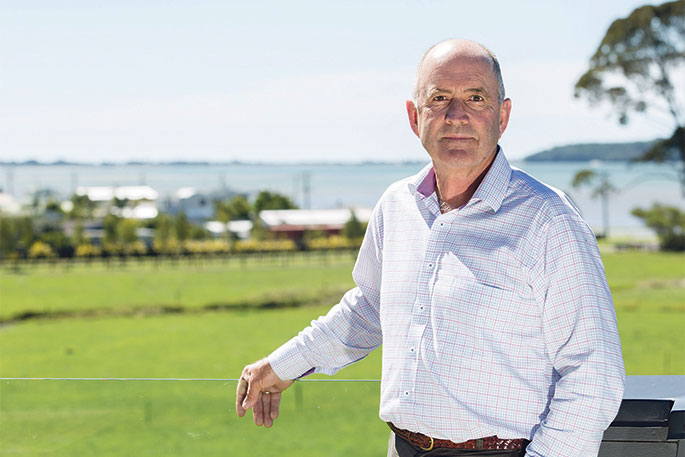 Click the image above to view slideshow
The exceptionally wet conditions of autumn, winter and spring are heightening concerns there may be in increase in activity of the kiwifruit vine disease Psa-V.
Kiwifruit Vine Health chief executive Barry O'Neil says it is too early to judge what impacts Psa-V infections will have on the 2018 kiwifruit season.
"We are seeing some evidence in the gold G3 variety but not at alarming levels. It is too early to say what is happening with green Hayward as that variety is a few weeks behind gold in coming out of dormancy."
Barry says there was an increase in Psa-V evidence in G3 vines following the full moon in October. "That's because the gravitational pull of the full moon makes the sap flow stronger, making Psa canker infections more obvious."
Those in the industry are hoping that New Zealand orchards don't replicate what happened in France last season when wet weather through autumn, winter and spring resulted in an increase in Psa infections.
Isolated incidents
"We have been contacted by growers with orchards in the kinds of situations we would expect to be more prone to Psa – in colder, wetter areas such as Waihi, parts of the Waikato and Franklin, but so far these are isolated rather than general incidents."
Younger vines are also more vulnerable to the disease than older, established vines which often have more tolerance to the disease.
One of the biggest issues for growers this winter has been the inability to get machinery into orchards because ground conditions are too wet.
"This has made it difficult for some to apply protective sprays. The continual wet weather has also made other tasks hard as working in orchards while vines are wet helps spread Psa. And when it hasn't been raining, it's been windy, preventing the application of sprays.
"Pre-flowering growers have the opportunity to apply sprays, but what they can use and how often is more limited after flowering. I really feel for growers trying to get on top of orchard management this year."
Cane collapse
Improving drainage in orchards, reducing wind by installing artificial shelter and improving vine health, including applying adequate fertiliser, are measures growers can also take to help control the disease.
"Don't overly feed vines however, as that increases vigour which can make Psa worse."
In gold varieties Psa causes cane collapse but generally flowers are not infected. However, in the green varieties, Hayward, G14 and others, flowers can be infected, with leaf spotting the first sign of infection. This can affect both male and female flowers. If this occurs Barry says the use of artificial pollination will be beneficial.
The disease is usually most obvious in Hayward males as cankers with a red-coloured ooze and collapsed canes.
Risk model
KVH, which was established in December 2010 to lead the industry response to the Psa incursion, is now the lead organisation responsible for managing biosecurity readiness, response, and operations on behalf of the kiwifruit industry.
Among its resources is the Psa-V Risk Model, an online, weather-based decision support tool to assist growers with orchard management in a Psa-V environment. Actual weather station data and weather forecast information is combined to provide customised access to unique weather information, disease information and interpretations.
The tool and other Psa and industry-related information can be found on the KVH website www.kvh.org.nz
More on SunLive...