Campus sees more international students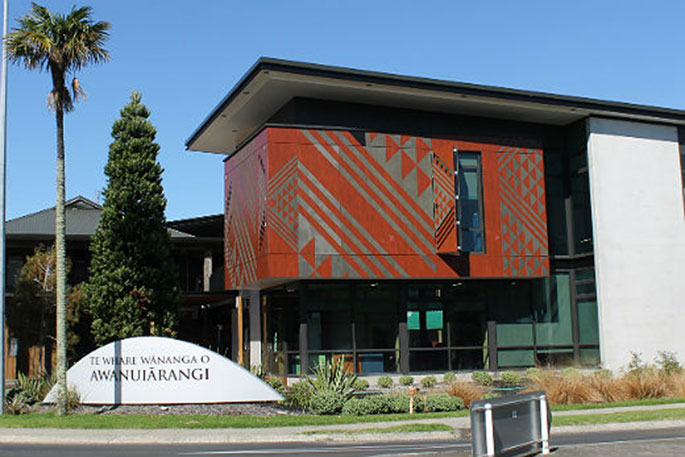 Click the image above to view slideshow
A second group of international students enrolled in a ground-breaking Professional Doctorate programme at Te Whare Wananga o Awanuiarangi has been welcomed to the Whakatane campus.
Post-graduate students from Washington State in the USA experienced their first visit to the wananga this month as part of the Professional Doctorate in Indigenous Development.
The four-year doctoral programme consolidates doctoral study for professionals working in areas relating to indigenous developmentand is offered in partnership with the University of Washington Tacoma.
The students are members of Native American tribes in Washington State, and are largely funded by their tribes to undertake the programme.
The first cohort of Washington State doctoral students first visited Awanuiarangi in 2013, and are now preparing to submit their theses.
The current cohort started their studies at the beginning of the year, and are half-way through two years of course work, which will then be followed by two years writing their theses.
They spent their first week in Whakatane focusing on the fundamentals of research and working collegially with Maori students of the Professional Doctorate.
Professor Nathan Matthews, head of the School of Indigenous Graduate Studies, says the international cohort's research is similar to research being undertaken by Maori doctoral students.
"It will focus on the tribal, community or indigenous areas in which they are working, providing increased opportunities for positive impacts across their communities at a professional level.
"The research generated will have direct benefits for their communities, in a range of areas including cultural and language revitalisation, relationships with the federal government, and tribal economy, and will augment the already significant body of research resulting from Masters and doctoral studies at the School of Indigenous Graduate Studies."
Professor Matthews said the eight visiting students mostly had leadership roles or work for their tribes in a range of areas including health, education, law, culture and art.
At an international level, and its application in developing innovative, durable development solutions informed by the values of the local context.
Awanuiarangi also offers a Doctor of Philosophy in Maori Studies, Indigenous Studies, Environment Studies and Education.
"As a wananga, we recognise our role in contributing to broader indigenous development aspirations and priorities and are excited by the opportunity within the tertiary education space to facilitate social, economic and cultural advancement for whanau, hapu, iwi and communities both nationally and internationally," says Nathan.
"The paradigm for indigenous development education is very different in the United States. Our visitors said they were inspired by meeting so many Maori students undertaking pre-degree studies, Masters and Doctorates, and by hearing people speaking our language and seeing the level of development in Maori education. Importantly, our visitors' doctoral studies will support their own development work in their communities at home."
More on SunLive...