Homeless people help decorate bus stop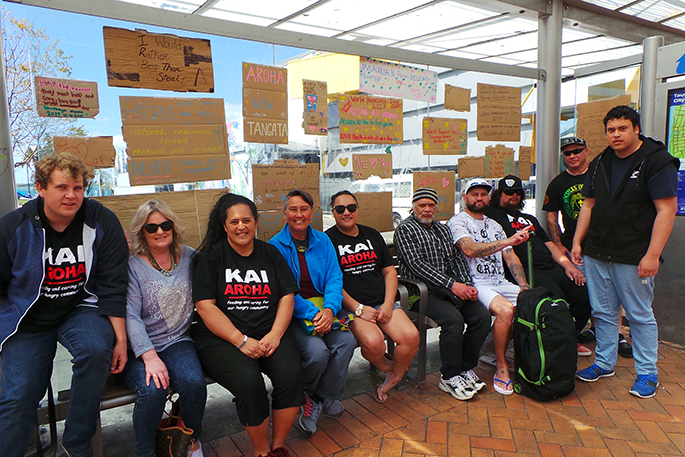 If you walked past the bus stop at Willow Street recently, you might have noticed some unique artwork adorning its glass walls.
Pieces of old cardboard have been recycled in an innovative way to create messages of hope to and from the city's homeless.
The initiative was part of World Homeless Day, held on Tuesday. Charity workers and homeless people mingled to paint messages onto cardboard, which was then taped to the wall of the bus stop.
Tania Lewis-Rickard, of Kai Aroha, says they finished installing the art at around 11.30pm on Tuesday.
"The idea was to use the cardboard that streeties use to communicate with us, and to turn it around and communicate with them for a change."
Kai Aroha was started by Tania in May 2016, to help feed the homeless (or 'streeties') in Greerton. Every Friday night they're out providing food, and now there's a team of 20 involved.
Among them are Marcia and Tama Taikato-Whauwhau, who do a lot of 'behind-the-scenes' work with the group. They've been involved since day one, and have been trying to help the homeless and needy for a long time.
"It was awesome doing something like this," says Marcia, admiring the artwork. "It was great to have people from different groups working together.
Another of those groups that helped out on Tuesday – and help out by feeding the homeless every week – is Under the Stars.
Mum Tracey Carlton is one of their volunteers, and serves Milo to the homeless on Monday and Friday nights.
"It's the streeties' choice," she says. "They love a hot drink."
She says she was inspired to start helping out by two nine-year-old children.
"They said, 'Auntie, we want to help the homeless. Can you do it?' So I just did. I'd like to ask other members of our community to step up too."
She's particularly grateful to Excelso Café on Third Avenue, which has supplied 6000 cups for Milo night.
Pierre Keti, who also helps out with Under the Stars, used to be a streetie himself, until he found God. Now he's a Disciple of Christ, and credits his faith with helping him to turn his life around.
"Now I always try to be the reason someone smiles, every day."
The artwork is a mixture of images and text, including quotes from well-known campaigners for the disadvantaged, such as Martin Luther King Jr and Audrey Hepburn. They are expected to remain at the bus stop until Saturday.
More on SunLive...