Inachord with audiences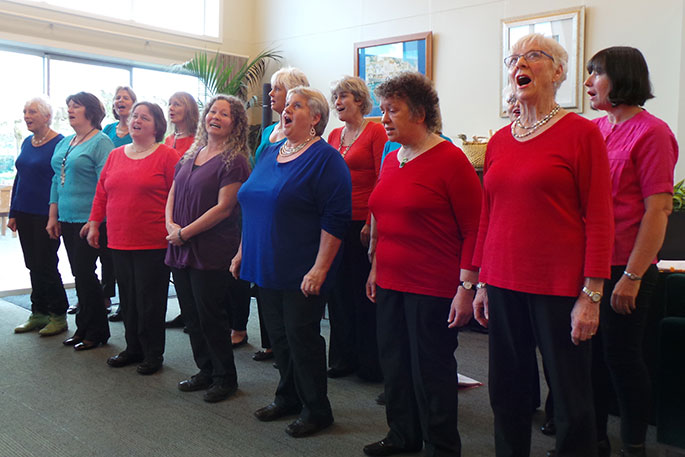 Smiles seemed to spread like wild fire around the room yesterday as patients of the Waipuna Hospice day program were treated to a special performance by a local singing group.
Inachord is friendly local chorus made up of around 30 women who share a love of singing in harmony.
The group performs annual concerts and sing outs give the community a chance to enjoy their music. Yesterday, the group hosted one of these performances at Waipuna Hospice.
Tauranga vocal coach Andrew Baird, says the small gathering yesterday was arranged ahead of an exciting upcoming event.
"We are just four weeks out from a major concert at Baycourt," says Andrew. "So right now we're sort of winding rubber bands.
"We want to give our singers a chance to air their voices in an informal way and put them in front of an audience, pretty much for the first time this year.
"While this is not a formal occasion it is still a chance to entertain."
During yesterday's performance the women belted out more than six fun and uplifting numbers, some of which included dancing, which received round applause and calls for encores from their audience.
Next in store is their event at Baycourt, Sisters in Song,which Andrew says the group has been training hard for.
"I have brought a complete change to their singing," says Andrew.
"They have previously been a group of women who have stood on a stage very formally and they have sung acapella, but we do backing tracks and we get them out there moving – it's a lot of fun
"I'm expecting the theatre to be full," he says.
"We have three guests with us at the show at Baycourt – two boys, who are twins, they dance and sing so I will be showcasing them
"There is also a young classical soprano who will be joining us, she is a Tauranga local but is in her final year at Waikato University, and she's going to perform a classical piece – but we will be in behind her as well.
Their Baycourt event, is on Saturday November 11, 7.30-9.30pm. Tickets cost $20 for adults and $15 for children.
More on SunLive...