Promising future for Stanaway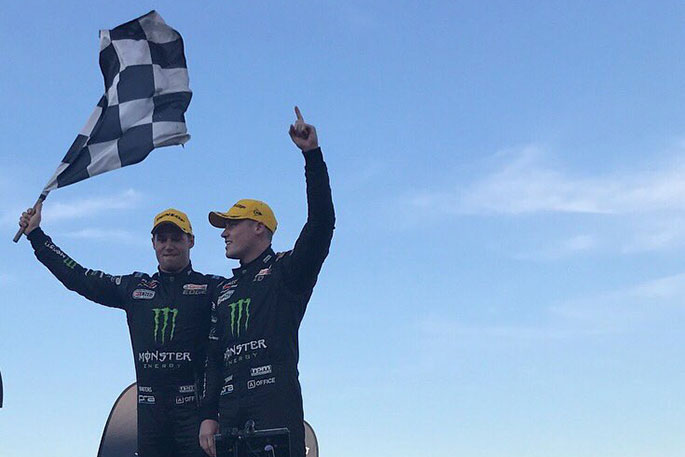 Tauranga driver Richie Stanaway had fans on the edge of their seats, as he dominated the lead at the halfway mark of a rainy Supercheap Auto Bathurst 1000 this year.
The wet weather began prior to the start of the race and persisted throughout the first 80 laps, which took drivers more than 3 hours and 30 minutes to complete.
A 25-year-old Richie, who sits in as the co-driver of Cam Waters at Bathurst for the second year now, proved the star of the show after taking over from Cam at the first round of stops.
Running fifth and more than 30 seconds down, Richie took little over 10 laps to catch leader Luke Youlden, driving David Reynolds' Erebus Holden.
Richie continued his charge and was 17 seconds ahead of David, when Cam took over the driver's seat during a pit stop on lap 67.
Richie says his overall performance was fantastic.
"Leading the race was for sure a highlight for me,.
"It's been a childhood dream of mine to participate in the race, which I did last year, but to actually lead it in contention and be a front runner is a pretty special feeling.
"Even though we didn't get the result, we were in contention for three-quarters of the race which was pretty cool.
"Personally, I had a good weekend and good individual performances in my co-driver practice sessions," says Richie.
"Especially considering, what tyre life I have in those sessions and then where I end up in the final order and then in the race.
"I had good stints and it's just unfortunate that the end result wasn't there, just due to the strategy call we made and Cam getting caught up in someone else's incident.
"Ultimately though the most important thing for me was my individual performance more so than the global result because that's what will be analysed in how the future is for me as a full time driver next year."
Despite their overall result, Richie says he came out having achieved goals he had set for himself at the beginning.
"I achieved the objective of having good speed and not making a mistake.
"At Bathurst, just because of the nature of the circuit, it's quite easy to make a race ending mistake, one little slip up and the race is over," he says. "Obviously if I'd done that then it would be for the detriment of my chances of a gig next year so I'm glad I achieved that."
"I also managed to achieve what I wanted in terms of speed," says Richie.
"It would have been nice to end on a good result, but it's a pretty big team effort and you need a lot of things to go right to have those results at the end and a lot of those variables are out of my control personally."
"You can't get too upset about things that aren't in your control."
Being new to the game, Richie says there is still room for improvement when it comes to his own performance.
"Looking back, I could've driven the car to its limits better instead of worrying about everyone else that was around me at the time and I could have minimised time lost there.
"I was trying to overdrive and do something that wasn't possible at the time, which was to maintain the lead.
"It wasn't possible due to the way we'd set the car up in the last pit stop, so I should've just driven my own race and not gotten so stressed about not being able to hold the lead.
"Reflecting back I think that'll all come from having more experience, I'm still relatively new in the category."
Richie says he's hoping he will be a main driver at next years' event.
"I should know in the next couple of months where we are at. We've got the Gold Coast 600 in two weeks, which is the last round of the endurance races then after that I'm done for the year."
He says he will be spending the time looking after his physical health and catching up with friends.
"If I do end up driving full time I'll be pretty busy, with 16 races over a nine-month period," says Richie.
"There'll be a lot of travel and I will have to move to Australia - I'm hoping I can do that."
More on SunLive...