'An amazing Mum': Crash victim mourned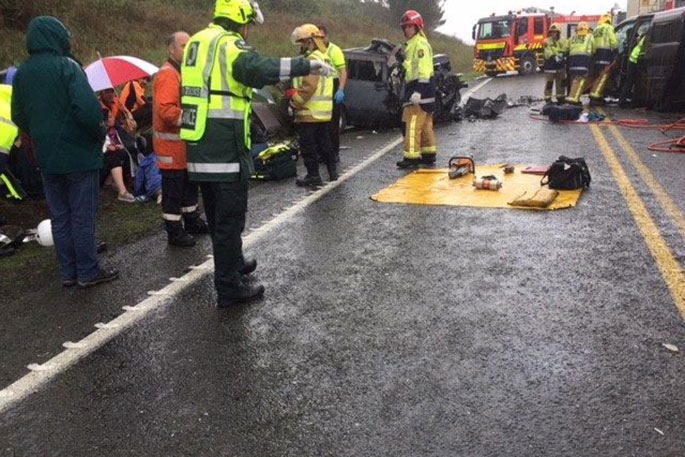 The Tongan community in Palmerston North are mourning the loss of a mum, teacher and recently ordained preacher who was killed in a crash that also claimed the lives of three others.
Pesi Tuivai was travelling with seven family members, including her three-year-old daughter, from a church meeting in Auckland on Monday when the crash happened.
Her friends, relatives and neighbours gathered at the Free Wesleyan Church of Tonga in Bunnythorpe last night to pray for her and those still hospital.
It was an emotional scene as Reverend Tevita Langi stood before dozens of people who had gathered to say their goodbyes, and wiped the tears from his eyes during the two-hour service.
Seated in front of him was Ms Tuivai's three sons - aged 11, 16 and 18.
Her three-year-old daughter remains in Rotorua Hospital.
Ms Tuivai's neighbour Ala Tuimana says she was an amazing mum with an infectious smile.
"Probably the best way to describe her is bubbly. She's very happy to enter the room, she's always smiling. If you talk to her, she's smiling and happy and you get all this happiness from her."
Reverend Langi agreed, saying despite only been stationed at the church for little over a month, he couldn't help but notice that radiant smile.
"Pesi as we all know her, is one of the most loving mothers and smiling faces you've ever seen. Every time you meet her, every time you see her, she's smiling," he says.
In just a few weeks' time she was due to give her very first sermon as an ordained lay preacher at the church.
Reverend Langi said she trained for a year for the role, and had been excited for the church's annual quarterly meeting in Auckland at the weekend.
He says she was travelling with her sister, daughter and other relatives, and they posted on social media that they were having a good time.
"They uploaded some happy memories, I think only a couple of minutes later the accident happened. They were really enjoying their trip, lots of laughter, and it's just so hard to accept that after that fun moment, she passed away."
Her cousin, Olivia Halaifonua, says the community was in complete shock and were doing everything they could to support her children.
"People are still trying to think if it's real or not. As for myself, I still think when I wake up, 'am I in a nightmare, or a bad dream?' Our hearts just go out to the boys and her husband."
She says the local community had been very supportive, and she has been inundated with offers to help.
"It just means a lot, not only for the boys but for the family, for the community, knowing that we can come together at times like this and know that we can lean on each other and just be there for each other."
Reverend Langi says it 's also important to remember the other family who lost loved ones in the crash.
"We ask for all people to remember us in prayers, not only for us in the congregation, but for the other three people who died at the scene. We remember them in our prayers."
-RNZ
More on SunLive...