Dine in the Dark this weekend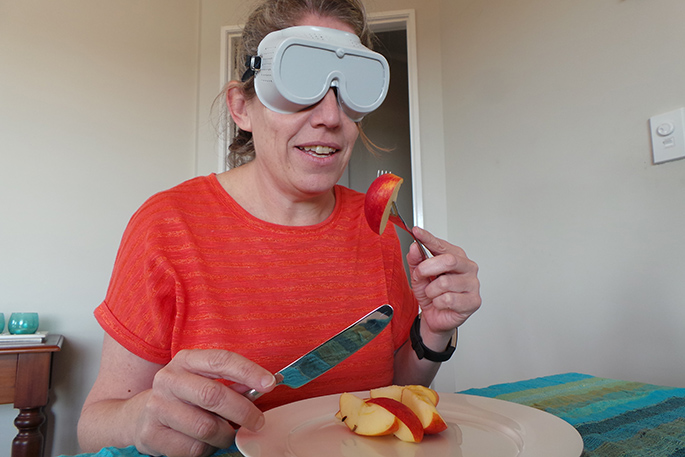 Click the image above to view slideshow
The Bay of Plenty Blind Sports Club is holding its annual blind sports festival this weekend, including a special 'Dine in the Dark' dinner on Saturday night.
The evening meal at Tauranga Fish & Dive Club is the club's major fundraiser, and gives guests the chance to have a go at eating without one of their senses.
Bay of Plenty Blind Sports Club president Stephanie Jobson says diners wear goggles to impair their vision, so they can experience what it might be like to eat without seeing.
"It's their option whether they wear them or not. Most do, because it's quite entertaining to try and eat different meals. Last year they served a beetroot salad, which was pretty risky!" she laughs.
"A lot of people end up putting empty forks into their mouths, because they think they have something on the end when they actually don't."
On Saturday the club will be playing blind cricket, which uses a special plastic ball filled with ball bearings and metal wickets, to make it easier to hear. They also bowl under arm, while both the wicket keeper and bowler use their voices to help with play.
On Sunday, it will be blind lawn bowls. Like blind cricket, there are different sight categories, but also a sighted director who lets players know what adjustments they need to make – such as aiming to the left or right, or more length needed. For those who are totally blind, they are set up in the right direction, and it's up to the bowler to give the right weight when they bowl.
You would think making the necessary adjustments would be difficult for someone who can't see, but Stephanie believes their players can handle it with their other senses.
"I think people can have better spatial awareness when they are blind, as they rely more on their hearing and memory. We actually have the top totally blind bowler living here in Tauranga."
It's the fourth year the festival has run, and Stephanie says it's the main way they attract new players to the club.
"It's very informal and beginner-friendly. It's just about giving things a go. We have people travelling from Napier and Hamilton to attend as well, so there'll be experienced players who can show new players what they can achieve."
Tickets to 'Dine in the Dark' are $40. For more information Call Steph on 0210706554, or email bopbsc@gmail.com.
More on SunLive...