Council praises binning of plastic bags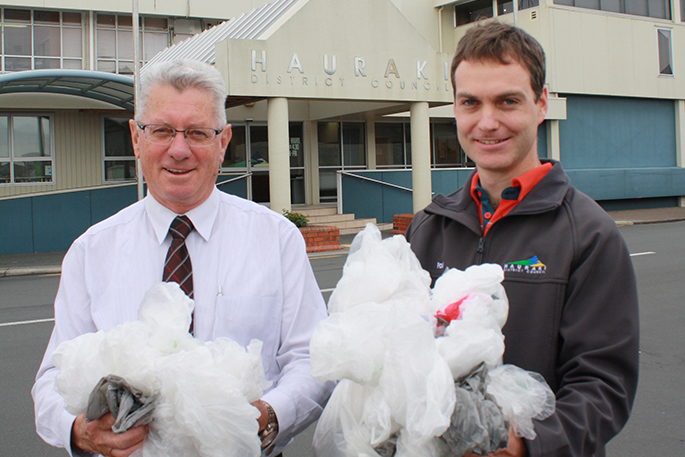 Click the image above to view slideshow
The news that Countdown and New World's single use plastic bags will be phased out has been welcomed by Hauraki District Council.
The supermarket retailers recently announced plastic bags will disappear from all stores by the end of 2018.
Mayor John Tregidga says reducing plastic bag use is a crucial part of protecting our environment.
"It's fantastic to see two of the biggest users of plastic bags in the district taking a lead on this. It aligns really well with the council's vision to reduce waste and will hopefully encourage others to get on board and make some positive changes too."
HDCl is working with neighbouring councils and the community to minimise waste to landfill. A joint Waste Minimisation and Management Plan has been updated this year and a councillor working group has been set up to promote the plan and waste disposal education in the district.
Having recently purchased his first worm farm, the mayor is excited about the potential for widespread worm farming in the district.
"It's brilliant, you can put pretty much any food waste in there except meat and bones, and it's all broken down into fertiliser, even egg shells. It's quite possible to reduce household waste disposal to almost nothing. It's all about education."
Paeroa Ward Chair Paul Milner, who leads the group overseeing the implementation of the plan in Hauraki, agrees the supermarket retailers' stance is a pleasing step in the right direction, but cautions there's still a long way to go.
"Checkout bags are the tip of a very big iceberg when it comes to the packaging of consumer goods. Plastic bags for fruit; polystyrene trays; these things also need to be addressed," he says.
The council's waste reduction targets include a 13 per cent reduction in the total quantity of waste sent to landfills by 2020 and a five per cent reduction in kerbside waste by 2022. Milner emphasises these are targets, not limits.
"If the community really gets in behind this plan there is no limit to what we can achieve, or to the economic, social, health, and environmental benefits that will naturally follow.
"Watch this space, quite literally, because I'm confident we're going to free-up plenty of landfill space in Hauraki over the next few years."
More on SunLive...