Child among dead in horror crash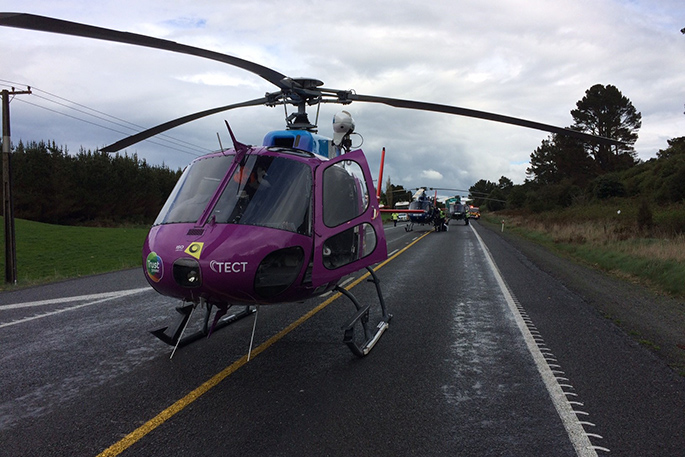 The Police Serious Crash Unit has begun investigating the cause of a crash that claimed four lives yesterday afternoon at the intersection of SH1 and Tutukau Road, Taupo.
A 56-year-old woman, 60-year-old man and a five-year-old boy travelling in one vehicle were killed, along with a 44-year-old woman in the other vehicle.
A 10-month-old baby boy, who suffered critical injuries in the crash, was transferred from Waikato Hospital to Starship overnight.
A 42-year-old man remains in a critical condition in intensive care, and a 32-year-old woman is in a stable condition, at Waikato Hospital.
Three girls aged two, three, 17 and a 66-year-old woman all remain in Rotorua Hospital in stable conditions.
A fifth woman, aged 42, was taken to Rotorua Hospital but was not admitted.
"This is an absolutely devastating event on our roads and police extend their sympathies to the loved ones of all of those involved," says acting Bay of Plenty road policing manager Senior Sergeant Nicky Cooney.
"The investigation is in the very early stages, but what is clear is the vehicles have impacted head-on. It will take some time for the SCU to establish more facts.
"At the moment our priority is ensuring support is provided to those who need it following this tragedy.
"Any death or serious injury on our roads is one too many, the number of people an event like this affects is awful.
"Road safety is everyone's responsibility. Everyone needs to think about their driving habits and keep safety at the forefront of their minds every time they hop in a vehicle."
Police ask anyone who witnessed the crash, or has information which may help the police investigation, to contact Taupo Police on 07 378 6060.
Police are not in a position to release the names of victims at this stage, and will only be done once they are satisfied all next of kin have been notified.
More on SunLive...