Fine day with fresh westerlies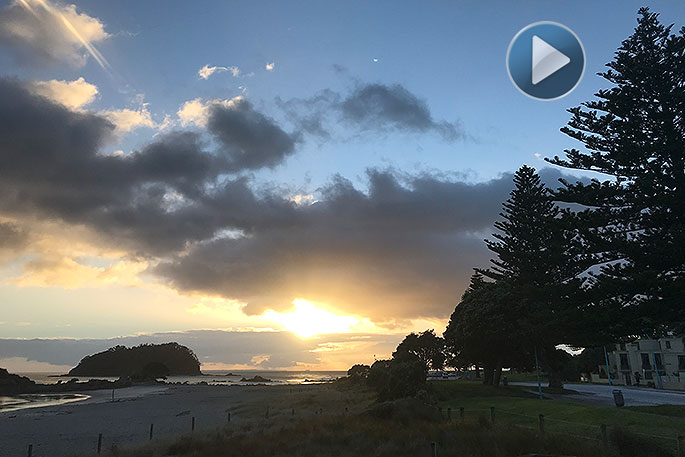 Click the image above to watch the video
In today's weather forecast we are expecting a few morning showers, then fine spells. Also fresh, gusty westerlies.
It's a two-clothing layer day today with a high of 18 and an overnight low of 10 degrees. Humidity is 90 per cent.
High tide is at 11.50am and low tide is at 6pm. Sea temperature is 15 degrees. There's an average sea swell of about .6m and sunset tonight is at 7.24pm.
If you're going fishing today the best fish bite time is between 5 and 7pm.
This day in NZ history in 1861 the first Cobb & Co. coach service ran to the Otago goldfields. Cobb & Co. reduced the time for the trip from two days to nine hours.
A quote for today from Margaret Fuller who said "If you have knowledge, let others light their candles in it."
A gardening tip update:
It's mid-spring and there is plenty to do in the garden. Spring crops and flowers will be starting to appear so it's time to plant more for a continuous supply that will last you into summer!
Now that the soil has warmed up popular crops to plant this month include: beans, potatoes, beetroot, capsicum, courgettes, cucumber, salad greens and herbs. Labour weekend is traditional tomato planting time. You can get creative and plant them upside down in buckets - a great space-saving option.
Plant vibrant blooms to brighten up your garden. Popular spring flowers include lobelia, dahlia, cosmos, gerbera, marigolds, petunia, poppy and sweet pea. After spring bulbs have finished flowering feed them with a bulb food to ensure next year's blooms are just as good.
Slugs and snails love leafy spring salad greens. Also look out for aphids and white cabbage butterfly caterpillar - they will be actively looking for food.
To find out what's happening around the Bay please go to our What's on page.
We have a few cloudy but fine days ahead. Enjoy today!
More on SunLive...