Tauranga Domain athletics track to close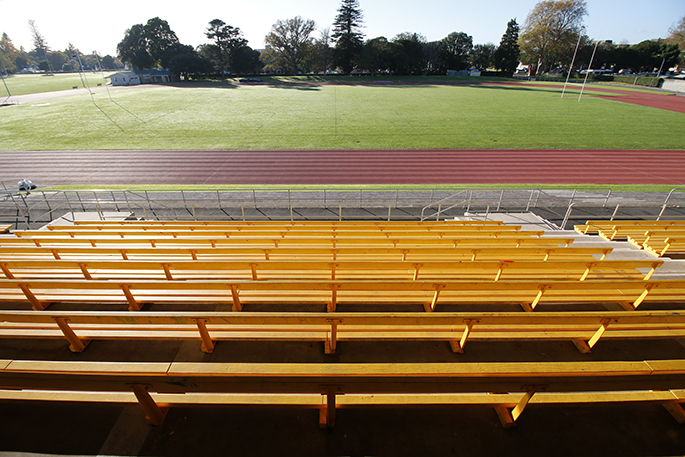 The athletics track and grandstand at Tauranga Domain will be closed for around three months as much-needed upgrades are implemented.
Thanks to Tauranga City Council, New Zealand Community Trust, The Lion Foundation and other community fundraising groups, the athletics track at Tauranga Domain will be resurfaced so that it can once again meet international athletics standards.
The track, which was first laid in 2007, is the only all-weather track in the region and is used by more than 10,000 people annually at a local, national and regional level. Due to the frequent use and the high UV rays, it has now deteriorated to a point where it no longer meets performance or safety standards.
Tauranga Millennium Track Trust secretary Ray Young says the track has been extremely popular with a wide range of community groups, but it has reached a point where it is in urgent need of repair.
"The upgrade will enable thousands of people to continue training and competing on a world-class facility. We are extremely grateful to all of the parties who have generously contributed towards this project," says Ray.
The total cost of resurfacing the track is $766,702, of which Tauranga City Council has contributed 50 per cent, NZCT 25 per cent, The Lion Foundation 13 per cent, and the balance through community fundraising initiatives.
The funds will be used to cover the cost of resurfacing the 5,532m2 track. That involves milling off the existing surface and replacing it over the existing base. The track will then be marked to international athletics standards.
"NZCT loves helping kiwis enjoy and participate in their sporting passions. The resurfacing of such an important athletics track in Tauranga is something we are pleased to be a part of," says NZCT national grants manager Ben Hodges.
The Lion Foundation head of partnerships Marcus Reynolds says it is great they could come on board.
"We are committed to supporting good causes in local communities and the Tauranga Domain athletics track fits our grants approach nicely."
Tauranga City Council parks and recreation manager Mark Smith says it is great to receive support for such a worthwhile community facility.
"The athletics track is a vital facility for the community and wider region. The upgrade will allow Tauranga to continue to have an all-weather track for local residents, as well as hold major athletics events that attract visitors to our beautiful city."
Work is expected to start later this month and be completed by mid-February 2018. The track and its surrounds will be closed during this period.
"The repairs will be completed as quickly as possible so that the facility can reopen to the public. We can't wait to see the new and improved track early next year," says Mark.
More on SunLive...