Baby injured in crash which killed four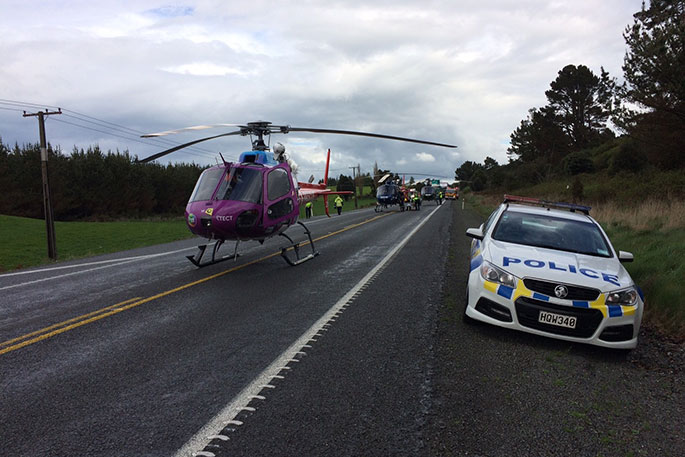 Click the image above to view slideshow
Police are investigating a crash which left four people dead and eight injured, including a baby.
Two cars crashed at the intersection of State Highway 1 and and Tutukau Rd - near the popular Orakei Korako geothermal area – at 3.15pm.
Two of the injured people are in critical condition and the others are in a serious condition or have moderate injuries.
Four rescue helicopters have taken the injured to Waikato and Rotorua hospitals.
Philips Search and Rescue Trust says those injured included a 10-month-old baby, a man in his forties with multiple injuries, and a 42-year-old woman with chest and abdominal injuries.
The Tauranga-based Trustpower TECT Rescue Helicopter was one of the four helicopters which flew injured patients to hospital.
NZ Fire, NZ Police and St John's were all in attendance, along with the Hamilton-based Waikato Westpac Rescue Helicopter, the Rotorua-basedBayTrust Rescue Helicopter and the Taupo-based Greenlea Rescue Helicopter, says a spokesperson for the rescue helicopter.
"The Trustpower TECT Rescue Helicopter airlifted a 17-year-old Palmerston North, who had suffered multiple injuries, to Rotorua Hospital."
The highway was closed for several hours, but is now open.
More on SunLive...