Locals achieving diabetes success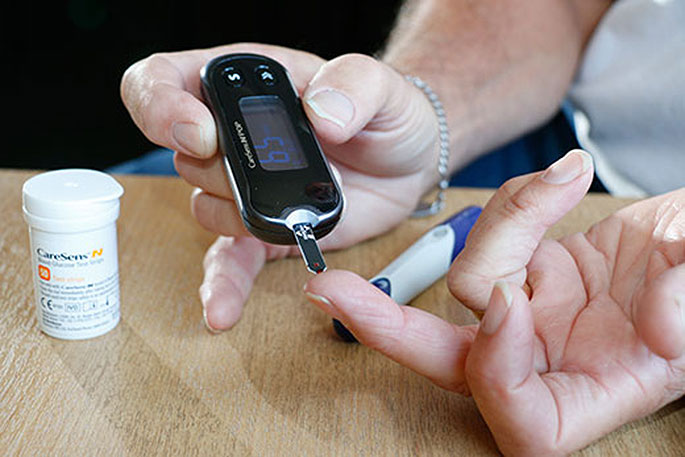 A diabetes defeat has been witnessed locally after an insulin-dependent type two diabetes patient of 20 years was able to come off insulin.
The health success was achieved thanks to a program run by Switched On, a Tauranga exercise and wellness center that offers wellness, mobility and training options to people of all abilities.
Exercise physiologist and team leader Aaron Balsom says their services are significantly helping patients.
"We run an exercise and physiology service in conjunction with a diabetes nurse," says Aaron.
"We see that diabetes becomes a lifestyle thing – you don't make any changes unless you know what's going on.
"We work on nutrition, exercise, lifestyle and wellbeing in a 12-week programme specifically designed for type two diabetes where we measure your blood sugars before and after training and adjust your trained based on those numbers and work in with doctors to reduce insulin intake or lower it as much as we can.
"One patient of ours who has recently hit a health milestone is a woman around 60 years old, who has come to us with type two diabetes and has been on insulin for 20 years," says Aaron.
"She's come in, done the 12-week program under the guidance of her nurse and each time she come in she was having to reduce her insulin so much because doing the exercise was making her blood sugars too low.
"With reducing her insulin and changing up her diet to a low carb one, she's been able to completely come off her insulin."
He says health successes like hers, are becoming more frequent in the clinic.
"We've had about 15 people go through the program and everyone has made a change, whether it's in their weight or fitness or a change in their insulin."
The Switched On programme is run with the support of Diabetes Help and is part of the SILC Charitable Trust group.
Bay of Plenty District Health Board deputy chairman Ron Scott says it's fantastic to see so many fantastic health achievements coming from the program.
"About 18 months ago a gym that's been working over at Hocking Street got in touch with us and said that they were in danger of failing," says Ron.
"They asked if SLIC would be interested in looking at, and we were.
"We changed if from being a gym where people with disabilities go, to a rehabilitation center.
"The gym section of it has amazing machines with services for people in wheelchairs, and attached to this is a range of clinics including the diabetes clinic.
"The programme they offer in their diabetes clinic is life-changing," he says. "It would be impressive enough to hear this woman who has achieved this success was a one-off success – but this has been repeated over and over since the programme began early this year."
Diabetes Help, nurse educator and manager, Debbie Cunliffe says the program filled a crucial gap in health services provided to the region.
"Before this program was formed, realized there was a lot around that help people lose weight and manage their blood sugar levels but they are generally done by gyms or fitness centers and they don't have that clinical input," says Debbie.
"Research has told us that exercise, under clinical guidance is beneficial to health and well-being," she says. "We know that diet and medication on its own is not enough."
"At Switched On the team is not just made up of sport and recreation qualified trainers, they are exercise physiologists, which is one level up.
"They are used to dealing with long-term chronic conditions, and the results of living with diabetes or living with high blood sugars which if they are not managed carefully in an exercise environment, can be dangerous.
"My role is when people need specialist advice around the program, whether they are on insulin or another drugs that needs adjustment, we can speak to the GPs and make suggestions.
"The most valuable part is seeing the emotional response of my clients seeing something move in their health.
"As we knew it would be, it's been a really positive outcome," she says. "We've seen some amazing results people coming off medication, losing weight and reducing blood sugar levels."
More on SunLive...