Plans in place to make highway safer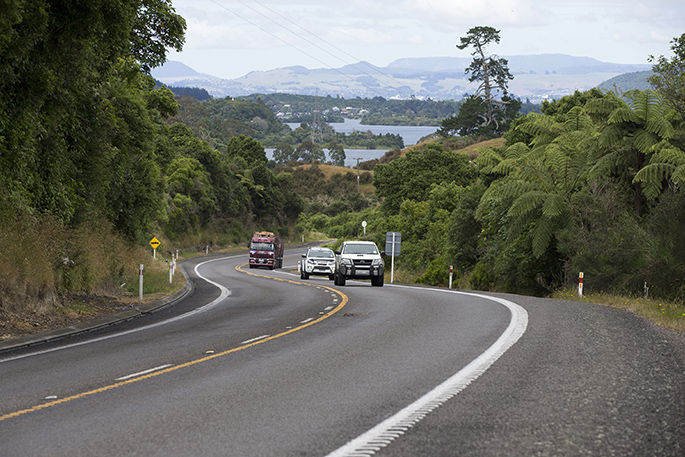 The NZ Transport Agency is inviting people to three drop-in sessions this week to hear about plans to make State Highway 33, between Te Ngae Junction and Paengaroa, safer.
The safety improvements have been developed after discussions with locals and stakeholders earlier this year.
They include a wide centreline from Te Ngae to Paengaroa, flexible roadside safety barriers at high risk locations, safety improvements in Mourea, Okere Falls and Paengaroa, rumble strips and a south-bound passing lane between Paengaroa and Okere Falls.
NZTA safety and environment director Harry Wilson says the plan being suggested will make this road safer, but he still wants to hear more from the public.
"The safety team had great conversations with the wider community and interested groups about their concerns with this road and the feedback received has helped shape the proposed safety improvements.
"The community drop-in sessions are a chance for people to review the plans, share their thoughts, and double check nothing important has been missed.
"We'd like people to come along and ask questions, give feedback and meet the team who will be working on this project. Or if they can't make it, there is also the option of providing feedback online."
There have been 16 deaths and 46 serious injuries on this stretch of road between 2006 and 2015. Most of these crashes were head-on collisions or drivers running off the road and hitting trees, poles or deep ditches.
The 34km long route will be completed in three stages. Stage one, near Paengaroa, begins later this year. The two remaining sections are expected to be underway next year and in 2019.
Through the Safe Roads programme the government is investing $600 million over six years, targeting the prevention of 900 deaths and serious injuries on high-risk rural state highways over the next decade.
Around 1500km of rural state highways throughout the country will be made safer through relatively simple measures, such as rumble strips, shoulder widening, safety barriers and better signage.
Find out more about why flexible safety barriers are used here.
Community drop-in sessions
Wednesday October 11: Paengaroa Hall, Paengaroa, 3-6pm
Thursday October 12: Okere Falls Store, SH33, Okere Falls, 3-6pm
Friday October 13: Pikiao Rugby League Club, 3 Takinga Street, Mourea, 1-4pm
More on SunLive...