Rare kiwi hatches at Rainbow Springs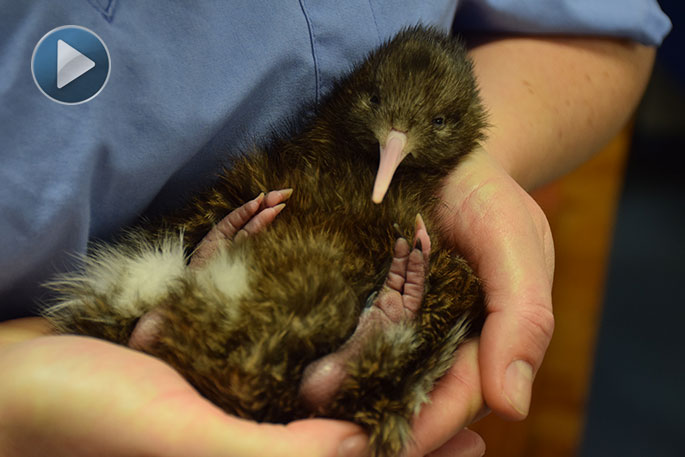 Click the image above to watch the video
A kiwi chick with rare white feathers has hatched at Rainbow Springs' Kiwi Encounter in Rotorua – the first with white feathers around its leg in almost a decade.
Bloomers, aptly named for its white feathers that resemble a pair of knickers half on, hatched at the country's largest kiwi hatching facility on September 29.
It's the first chick to hatch at the Encounter with the genetically rare markings around a leg like this since the 2007/08 season, and hatched on the fringe of October – national Save Kiwi Month.
Kiwi Husbandry Manager, Emma Bean, says only a handful of the more than 1650 chicks hatched at the Encounter to date have had such large patches of white feathers.
"Kiwi are unique in that they hatch from their egg fully feathered, so we knew straight away that Bloomers was a rare little chick.
"We were very excited. It's always amazing to welcome a new chick into the world, but it's extra special to be treated to such rare markings.
"Bloomers is definitely a unique little bird."
For North Island Brown Kiwi, the gene for brown feathers is dominant, while the gene for white feathers is recessive.
Bloomers' egg arrived with its sibling from Moehau in the Coromandel on 13 September.
After 11 days in incubation the hatching process began, and a further five days later Bloomers broke free of his egg.
"Bloomers is a perfect chick, a little on the small side but very healthy and alert."
Bloomers will stay at Kiwi Encounter for a couple of weeks before being transferred to Motutapu Island to grow to a 'stoat-safe weight' of 1kg.
The young bird will then join other kiwi chicks from the Coromandel on Motutapu Island to establish a Kōhanga Kiwi population.
Kōhanga Kiwi are sites where kiwi conservation has been so successful, their surplus birds are used to boost wild kiwi populations elsewhere – in this case, the Coromandel.
Bloomers is the 14th chick to hatch at Rainbow Springs' Kiwi Encounter this season in what the team hopes will be the biggest hatching season yet. The kiwi hatching season runs from October to April.
These school holidays, as part of Save Kiwi Month, Rainbow Springs is offering its Kiwi Encounter behind-the-scenes tour free with every standard family day pass.
More on SunLive...