First cruise ship of the season arrives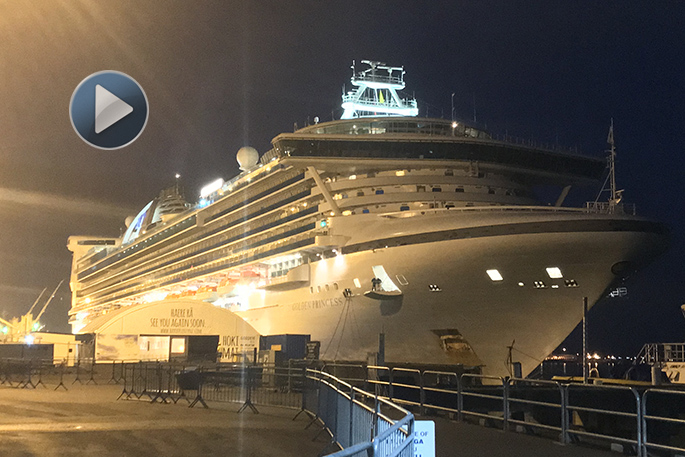 Click the image above to watch the video
The first cruise ship of the 2017/18 season has arrived at Salisbury Wharf this morning.
The Golden Princess, capable of carrying 2600 passengers and 1100 crew members, docked at around 6am, and is expected to depart at 6pm.
The cruise ship is 290 metres long, with a tonnage of 108,865.
Mount Maunganui resident Michelle Pollard was up early to watch the ship come in, which is carrying her parents, Margaret and Kevin – also from the Mount.
"They've been around New Zealand, and have always wanted to sail into Tauranga on a cruise ship.
"They flew to Sydney and got on there, and will end up back in Sydney at the end of the cruise. They can't see much coming in, but it should be nice when they leave this evening."
She expects to see them this afternoon when they catch up for a drink at the fishing club.
"Dad was joking he might have to whip home and mow the lawns."
The Golden Princess previously visited Napier, and will sail on to Auckland tonight.
The next cruise ship due in port is the slightly smaller Noordam, which should arrive on November 4.
The stunning Ovation of the Seas – which SunLive photographer Bruce Barnard explored last year – is also set to make an appearance just before Christmas.
More on SunLive...