Bus drivers receive pay rise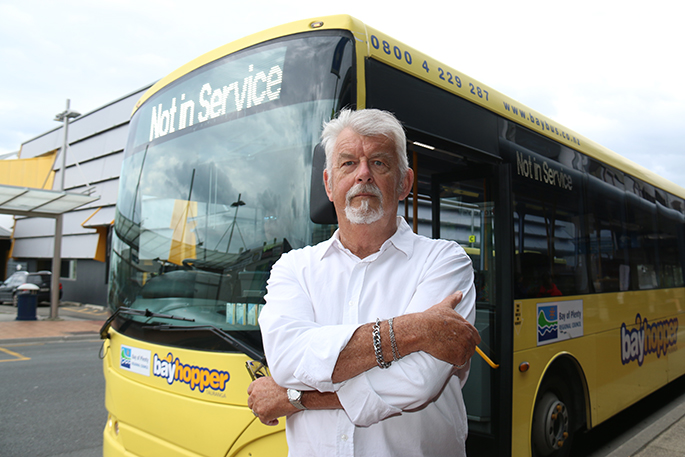 Click the image above to view slideshow
Local bus drivers are thrilled after receiving an almost seven per cent pay rise last week.
The pay increase follows a petition presented on behalf of bus drivers to the Bay of Plenty Regional Council, in which they asked for the living wage to become a non-negotiable part of future contracts tendered by the council.
Bus driver and union member Allan Mathews, who presented the petition, calls the 6.725 per cent pay rise 'astonishingly good news'.
"It was announced pretty much out of the blue last week," he says.
"Everybody was pleased. Far too many people have given me the credit, but it takes some time to organise a pay rise of that extent. So it is clear management have been working on it for some time.
"Whether the announcement was coincidental following our actions, I couldn't say. I must give management credit, though, for manning up and admitting the workers deserve it."
The pay rise came into effect immediately, lifting the average bus driver's hourly rate to $18.25.
"It is significant. The average driver, working around 50 hours a week, will be getting $45 a week extra in their pocket."
However, Allan still says the drivers will be pushing for the living wage, which he hopes to see happen in the next 12 months or so.
Integral to this is the support of the Bay of Plenty Regional Council, which currently tenders contracts under the Public Transport Operating Model. Under PTOM, wages are one of the few aspect of contracts that are negotiable – thus rival contractors bidding to operate the bus service can offer a cheaper option to the council by cutting driver pay.
"I'd like the council to show they're not bound by PTOM. Should the contract be given to someone else, we're terrified the new contractor will cut our wages again," says Allan.
"So we need that security."
BOPRC transport policy manager Garry Maloney says they are aware that at least one of their current contracted bus service providers are having discussions with their staff about the potential introduction of a living wage for their drivers.
"BOPRC does not yet know if or how a living wage might be applied across the council and its various contract services, so we are not in a position to be able to respond on this topic at this stage.
"We will shortly be going to tender for our bus services in the Western Bay of Plenty and we will consider the appropriateness of a living wage as we finalise these tender documents.
He says the concept of a living wage is an extremely important topic and it is 'vital' BOPRC gives it the consideration and discussion it requires.
"It is a discussion and an ultimate decision that cannot be rushed, and it must be weighed against a number of different important factors, including: ensuring the efficient delivery of the services for which we are responsible, budgetary considerations and our responsibility for the careful use of ratepayer investment, value for service, and acknowledging the significant contribution of our employees and contractors.
"We look forward to further conversations with our stakeholders and communities as we explore this further."
Go Bus has been contacted for comment.
More on SunLive...