Basic necessities ready for new refugees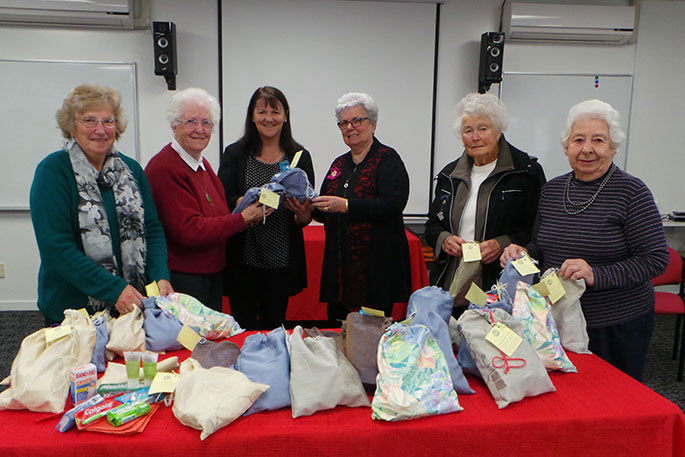 Click the image above to view slideshow
More than 30 bags containing everyday necessities were gifted by the Tauranga Soroptimist Club to the Red Cross recently.
The bags, which contain toiletry and personal hygiene items, are a part of a club project which aims to assist refugee women entering the country.
The items have been collected by women in the club, sorted into bags and taken to the Hamilton Red Cross centre where they are distributed to new refugees.
Tauranga Soroptimist member Betty Owen says the bags are a good way to provide basic necessities for those entering the country.
"Basically the bags are made up with all your toiletry needs and they just help refugees to feel a bit of dignity," says Betty.
"I think it's about this month when the next refugees will be coming, but we've done them so they're all ready by then."
"This is about the fourth group of them we've done; it's been quite a task over the last few years, there's at least 120 bags all up."
Doreen Salter, whose task is to source the products and sort them into the bags, says that it's a good way help ease stress off of those entering the country.
"It's actually quite expensive if you buy the products in the normal run of things.
"They're at least $20 a bag, but because we keep an eye out for bargains and make the bags – it makes it easier."
"I don't know what their circumstances are when they arrive, but they probably need these items and it's nice to think that we can offer some sort of assistance," says Doreen.
Bay of Plenty Red Cross humanitarian services coordinator Julie Forest says they are grateful for the donation.
"I think it's a fantastic and thoughtful effort from the Soroptimist Club," says Julie.
Globally, Soroptimist is a women's organisation whose members volunteer to improve the lives of women and girls through programmes leading to social and economic empowerment.
Approximately 76,000 Soroptimists in more than 120 countries and territories support community–based and global projects benefiting women and girls.
In Tauranga, more than 15 women make up the local Tauranga Soroptimist Club which has been operational for nearly 45 years.
The club is highly involved in advocating for community ventures which positively improve the lives of women.
More on SunLive...