Event sails ahead despite weather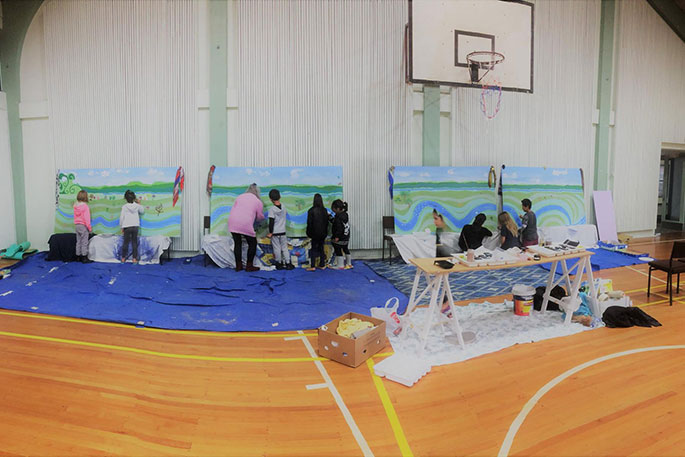 Despite the weather, Edgecumbe continues to get all dressed up as the town prepares to welcome the America's Cup this afternoon at Edgecumbe Wall Memorial Mall.
The event, which will see members of Emirates Team New Zealand bring the 'Auld Mug' to the township, was secured after being suggested by Eastern Bay Chamber of Commerce chief executive Gerard Casey.
He says the event is expected to help boost morale and highlight the fact that Edgecumbe is firmly back in business.
"We originally thought three members from Emirates Team New Zealand would be coming along, but now six of them have confirmed, including one of the cyclers so there's definitely going to be a renewed amount of energy come from that," says Gerard.
He says he is excited for the day.
"It's great when you set yourself a goal and you actually see the event come together," says Gerard. "Probably the only thing I'm disappointed in is the weather.
"We thought the weather was going to be a bit finer than it was but we've just shifted the event to the Edgecumbe War Memorial Hall.
"That's something we can't really control and it wasn't really something I was ever worried about – just the fact we could get the team here is absolutely superb and regardless, we still think that we will get a whole lot of people showing up for it."
He says people from around the region are expected to show up, to witness the once-in-a-lifetime visit, which will take place from 12-2pm today.
"Hopefully we are going to encourage a lot of people to come from around the Eastern Bay to Edgecumbe, to see what the town is all about.
"Six months on, things are looking better but there's still a lot to go," says Gerard.
"We are hoping this will be a midpoint where the Edgecumbe community will get an uplift and feel inspired seeing these guys come here and also that people will come here today and then want to return and visit the town again."
As the event is in the middle of the school holidays, there will be children's activities onsite from 11am, and local businesses will be offering their products via market stalls.
The main event will start with a welcome to Emirates Team NZ representatives and the America's Cup at midday, followed by brief speeches; a short crowd question-and-answer session with the team members; and then a public selfie or photo-opportunity with the Cup and team members.
More on SunLive...