Buskers brave bad weather for festival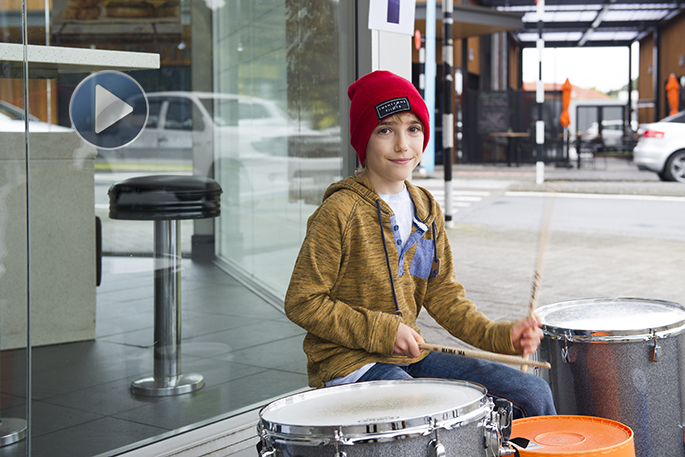 Click the image above to watch the video
After a week of sunny skies, Sunday unfortunately turned wet – just in time for The Weekend Sun Mount Busking Festival.
However, that didn't deter a variety of acts from entertaining visitors to Mount Mainstreet today, with buskers coming from as far away as Auckland to share their talents.
Mount Mainstreet manager Ingrid Fleming says there were 42 entries in this year's festival, across two sections – junior (under 16) and open.
"Despite the weather, it's been a fantastic busking festival. We had some real talent out there."
Four skilled judges sized up each act, evaluating them on their strengths as entertainers, with particular attention paid to audience response. Two sound technicians also ensured buskers didn't drown each other out in the contest to be heard.
Although the majority of the buskers were bands or solo musicians, there were other entertainment options at the festival too, including pony rides, a trampoline, a stilt walker, Spiderman, and face painting.
Ingrid says the crowd was good considering the rain, and they ended up reopening the road early as most of the acts were under cover.
The annual festival is free to enter, with more than $3000 in prizes and cash up for grabs.
"Our next big event is Wheels on Mainstreet at Labour Weekend," says Ingrid. "After that the focus is on Christmas. Santa is coming on December 23 and 24, and on December 1-3 we have ice skating in Phoenix Park, on a plastic rink."
Mount Busking Festival Winners
Junior Section
First: Noah Stuart (bucket drums and floor tom)
Second: Tara Canton (acoustic guitar)
Third: 'Unnecessary Jams' (singing, guitar, box drum)
Fourth: Eliza Ward, Kieran Tipper, and Logan Macdonald (keyboard, guitar, singing)
Fifth: Peter Hart and Asher Wong (violin with backing music)
People's Choice: 'Blend' (singing and ukulele)
Open Section
First and People's Choice: 'Papamoa Pirates' (drums and digeridoos)
Second: Campbell Mackenzie (acoustic guitar and singing)
Third: Brandon Cawenga (guitar and singing)
Fourth: Caleb Cross (guitar and singing)
Fifth: Eric Hunt (electric guitar)
More on SunLive...