Three cheers for space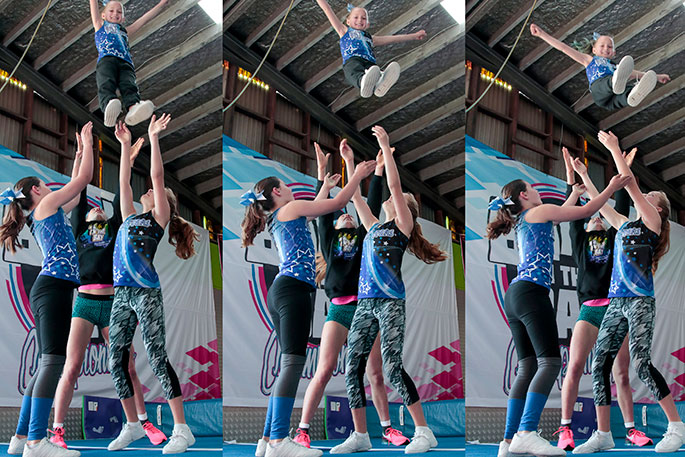 For two years they've been hunting for a better place to practise.
A big open space, with high ceilings and room to tumble.
And finally, they've found one.
Founder and chairperson of local cheerleading club Bay Twisters Rebecca Grigson says they will move into their new cheerleading hub on Waihi Road today.
"We used to be tucked away in a little alleyway and nobody knew we were there but now we get 30,000 cars going by every single day.
"It's just so open and big and bright; it's much, much better for us, and parking is easy, it's awesome."
It was fate, finding the new building. Fate, good timing, and a tangible passion.
"It was a bit hard to get the building; the landlord wanted someone who could give the building a bit of love and he said that I was so convincing because I was just so excited and passionate," says Rebecca.
"He said 'I'm giving you guys a bit of a chance here' and I said 'I know I know, I'm really grateful'."
"He said 'I know your passion' and he sold it to me because he said I was so passionate about the kids and the sport that he totally believed in me."
The new building means a larger floor space – closer to competition standard – more room for tumbles and throws, more capacity for willing kids, and opportunity for new classes.
"We're also going to start doing parkour and free running classes which should help get boys in the club. We have a coach that is qualified in cheerleading as well as parkour, and it's his passion," says Rebecca.
Bay Twisters, started by Rebecca four years ago, has grown from eight eager little cheerleaders to more than 150. It's getting kids active, it's bringing up the profile of cheerleading, and it's bringing business to the Bay.
"We host Battle in the Bay and this year it brought more than 600 athletes competing to Tauranga," says Rebecca. "Hopefully next year it will be bigger and better because we kind of have a good name for ourselves."
Rebecca says its' a full-time job with no pay. But the tradeoff for her is seeing the kids thrive.
"I don't get paid for it but I'm in a lucky situation where my husband supports me 110 per cent. I've got a good committee behind me but I do all the day-to-day running and all the grant applications so it is pretty much a full-time job, but I wouldn't have it any other way."
"I don't mind that I don't get paid for it, it's so rewarding."
Registrations for 2018 Bay Twisters cheerleading teams open on November 18. For more information visit www.baytwisters.co.nz
More on SunLive...