New restaurants/townhouses for CBD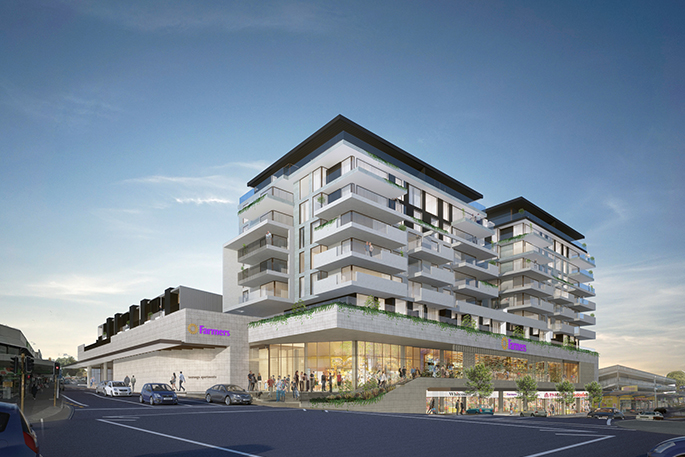 Computer-rendered plans have been released showing the proposed $100 million-plus Farmers redevelopment will feature a strip of cafes and restaurants along Elizabeth St with balconies overlooking the city centre.
The plans also show that, in addition to the 73 apartments announced earlier, the building will include nearly two dozen executive townhouses to be constructed above the two-storey retail plinth.
Elizabeth Properties Limited – part of James Pascoe Group that owns Farmers and other popular retail brands says the cafes and restaurants are being included as part of a global trend towards broadening the experience of shopping.
Company spokesperson Brett Nicholls says Tauranga will be among the first cities to experience this new level of sophistication in New Zealand.
"It's an exciting idea that has caught on in shopping areas overseas. People are looking for a whole new experience when they go out. They're enjoying a quality meal at their shopping destination, rather than eating and shopping separately."
The proposed building will feature 320 car parks, and two towers containing the 73 apartments, and 23 townhouses. Around 180 of the building's car parks will be available to the public.
This is more than twice as many that are currently publicly available at Farmers.
Brett says the company's intention behind the introduction of the executive townhouses is to offer greater residential choice.
"The two- to three-bedroom executive townhouses will come with the benefit of all that the wider development offers, but at a price point that suits purchasers looking to get into the Tauranga market."
The plans also aim to transform a lane between Elizabeth St and First Ave with "hole-in-the-wall" eateries accessible to pedestrians. Brett says this is one of his favourite aspects of the design.
"We're aiming for a Melbourne feel, with outdoor seating and dining. Features such as these will be a real catalyst for change for Tauranga's CBD."
The images have been released after meetings between Brett and representatives of iwi, Heart of the City, Tauranga City Council, Priority One, Mainstreet Tauranga and neighbouring businesses.
Brett says consultation is an "extremely important" part of the development process, as it is crucial the new building fits in with the character of Tauranga's downtown area.
He is keen to hear feedback and answer any questions about the proposal, and says a public open day is planned in the near future.
"A development on this scale is a tremendous commitment, but it's one we're willing to make because Farmers has played such an iconic role on that corner. We have faith Tauranga is ready for this kind of development, and we intend to deliver."
The Farmers corner has a long history of retail stretching back to its roots as a mall in the early 1970s.
Farmers will move to Tauranga Crossing while the site is being developed and will move back when it is completed. Other retailers expected to move into the building include Stevens Homewares, Whitcoulls and Pascoes the Jewellers.
The development comes at a time in which the council's Heart of the City campaign looks for ways to reinvigorate the CBD by drawing people into town and spurring the local economy. Tauranga mayor Greg Brownless, Priority One chief executive Nigel Tutt and Downtown Tauranga spokeswoman Sally Cooke have all publicly endorsed the development.
The company expects to lodge consent applications before the end of this year. An expected opening date is yet to be finalised.
By the numbers
- $100+ million development
- Six cafes and restaurants
- Two levels of retail
- 8000 square metres retail
- 320 car parks on 5 levels
- 73 high-end apartments
- 23 town houses
- Farmers to return (taking 3/4 of retail space)
- Other retailers to join
More on SunLive...