'Labour of love' helps needy abroad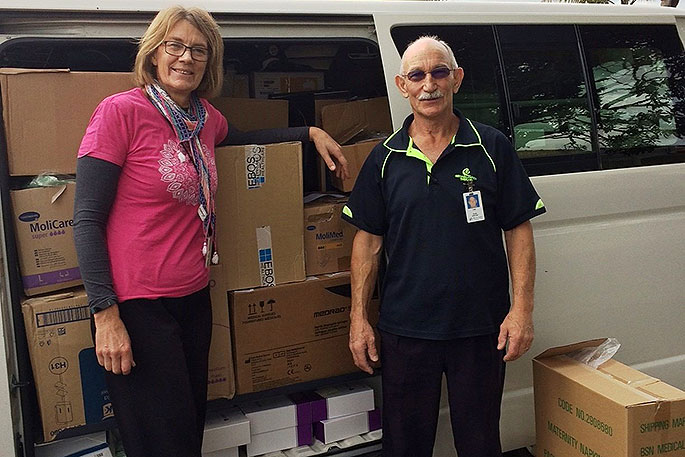 Click the image above to view slideshow
Every six months or so Lydia Snell packs up a van loaded to the brim with unwanted medical supplies from Whakatane Hospital bound for countries less developed than New Zealand.
It's a ritual the Paediatric Liaison Nurse has been doing for around ten years, and one she never tires of.
"I'm one of those people who can't stand wastage. I couldn't as a child and I can't still. For me, it's a labour of love. I'm passionate about helping people," says Lydia.
Lydia's role involves working alongside a social worker to ensure children and their families in the Eastern Bay of Plenty, have access to the appropriate health interventions they may require, both in the hospital and in the community.
Over the years she's also become renowned at the hospital and within the wider community as the 'go-to' person for organising a new home for surplus medical supplies.
Lydia takes the surplus medical supplies and equipment to Auckland where they're dispatched by Medical Aid Abroad.
"I get calls from all over the hospital and nurses in the community too, wanting to offload medical equipment and supplies that are no longer needed. The tricky thing is finding space to store things."
Unopened incontinence products, cord clamps, old style crutches, and walking frames are among the list of goods that are packed up. Pharmaceuticals are strictly off the list.
MAA Stores Manager Dr Mary Joku Ponifasio says Lydia seems to have a knack of producing medical supplies that developing countries have requested, and she'd almost given up hope of finding.
"Somehow she brings something that is needed for overseas which I don't have available in store. Last year, a hospital in Papua New Guinea urgently needed an infant incubator. I thought of letting the PNG hospital know, that we didn't have one to give, until Lydia showed up with one packed nicely in her van."
In her most recent trip to Auckland, tucked amongst 20 pairs of old crutches and boxes of medical supplies, Lydia and her husband had squeezed in an old Steriliser machine that had been passed on from one of the Whakatane health centres and hadn't been used for some time.
Mary says she'd been searching for a Steriliser for two months, and there it was.
"It was like a prayer answered."
Through MAA and people across the country like Lydia, much-needed medical supplies are provided to more than 30 developing countries across the South Pacific region as well as Asia, Africa and the Middle East.
Lydia hopes to one day follow a package of medical supplies to one of the developing countries to see how they're being put to good use.
More on SunLive...