Tauranga couple lead rescue missions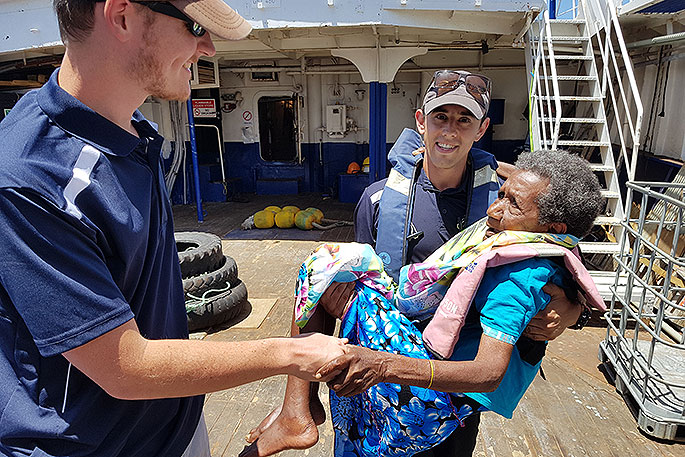 A Tauranga couple has been at the front line of the rescue efforts for a Vanuatu community.
Fearing a major eruption, officials ordered everyone on Ambae, in the north of the Pacific archipelago, to leave after the Manaro Voui volcano rumbled to life and rained rock and ash on villages recently.
An army of civilian vessels were arranged to ferry residents to safety on other islands in a Dunkirk-like evacuation exercise.
At least 18 evacuation centres set up in schools, churches and on sports grounds.
The evacuation of more than 11,000 people was completed Thursday.
Marine Reach founder and CEO David Cowie and his wife Linda, from Oropi, were aboard their medical ship Pacific Hope in Vanuatu, when they were called to aid in the evacuation.
"We've been in Vanuatu doing medical work for most the year," says David.
"We got a call from the Vanuatu government asking if we could sail up to Ambae, to help evacuate the people from the island.
"We immediately headed up there, went to Ambae to the village of Lolowai, and in the first run we evacuated 70 patients from the hospital.
"They're all elderly patients, some could not even work and several were totally blind.
"We had to bring them out on a tender and load them onto the vessel from the tender which was a very interesting experience.
"We were then able to take care of them and take them back to Luganville, where they were met by a medical team.
"We then immediately turned around and went back for a second trip where we helped mostly women and children, there was another 67 of them and we were able to bring them back.
"We didn't see much of the volcano other than the red glow in the clouds above the volcano so it was obviously very active and very menacing so we were really pleased that we were able to step in and do this for the government at the time."
David says the rescue work took around four days to complete.
Teams were able to evacuate the entire town except for a few who managed to escape into the bush.
"They were worried about their crops," says David. "In a subsistent society that was very important to them.
"Police are now patrolling the area, looking for signs of where they may be so they can get those people off the island as well.
He says authorities have made no indication as of yet, to when families can return to the island.
"Authorities are still very concerned about the volcano, it is very menacing and they felt as if they couldn't take the risk."
Marine Reach was founded in September 1990 in Tauranga New Zealand, as a maritime expression of Youth with a Mission mercy ministries.
Pacific Hope is Marine Reach's forth medical ship. It has over 22 crew members.
"We started this project about 26 years ago," says David.
"We've covered about 18 different nations from Pitcairn Islands to the Philippines and treated over a million men women and children."
David and his wife Linda have been onboard for the last six months, alongside another Bay of Plenty local, Micah Baxendine.
"He's from Matamata, he's one of our engineers on board and has been with us for a couple of years."
"He stepped in during the evacuation to help out and the patients were extremely grateful."
He says the ship will not be returning any time soon.
"The ship left in April, so we've been out six months now but we will not be returning to New Zealand, we're going straight to the Caribbean to help with the hurricane relief."
The ship will leave for the Caribbean on Monday.
More on SunLive...