In this together and forever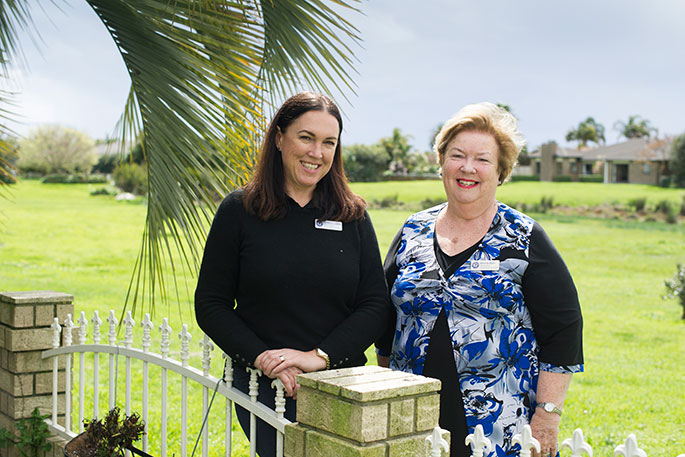 Click the image above to view slideshow
"I liken it to living with a difficult four-year-old," says Rachael.
We will call her Rachael simply to preserve her dignity and loyalty to a husband we will call Clark – a man living with Parkinson's, the progressive neuro-degenerative disease. Also to protect them both from one of the worst aspects of Parkinson's and that's the stigma.
"At least with a four-year-old who's having trouble eating, dressing or using a toilet, you know they will eventually grow out of their tricky behaviours," says Rachael. "With someone living with Parkinson's, you know the behaviours will never, ever be easier to deal with."
That thought, and the frustration and the fears, set off the tears. "Because I still love him," says Rachael. "Parkinson's may be destroying him physically, but he is still the same man. I will always love him."
And her chat with Clark is liberally laced with phrases such as "Are you alright darling?" and "Thank you sweetheart" – a constant reinforcement for both of them that while some things have changed, the important things, like the love, hasn't and won't.
Parkinson's affects one in 500 people – so there are about 260 people living with the disease in the Bay of Plenty. "That means a client group of 500 because the support person is just as affected by Parkinson's as the person with the disease," says Rachael.
For example, the support person would be picking up more and more responsibility around the house, trying to manage the house and the person living with Parkinson's as well as holding down a full-time job.
There are many days she wakes wondering if it will be a good day or a bad day. "And if it's a bad day, is it safe to be leaving him?" says Rachael. "But in fact I have obligations at work and I can't just suddenly drop work."
The Weekend Sun met up with Rachael to discuss Parkinson's New Zealand's appointment of two new community educators – they now have three, all of them registered nurses, serving the Bay. But to understand their work, it helps to understand the problem.
Parkinson's is a disease but it's not contagious, it can't be caught. Symptoms can be treated but there's no cure and it has little effect on life expectancy. Symptoms include the tell-tale tremor – about 70 per cent of people with Parkinson's have a tremor, often starting in one hand or arm.
The small things that we take for granted – turning over in bed, standing up or delicate movements like doing up buttons – become frustrating, time-consuming chores for someone with Parkinson's. It can also affect posture, speech and facial expressions.
"We were crossing the road the other day and a car was coming. Clark just stood there teetering and unable to walk," says Rachael. "The brain was sending messages but they weren't getting through to the limbs. His legs wouldn't do as they were told. The driver of the car must have wondered what the hell was going on."
So people with Parkinson's often find starting movement difficult, or it might take them longer to perform a task. This can affect things like repetitive limb movements, handwriting and getting dressed can take so long the person begins to get cold.
Once upon a time, a field officer might have been someone who simply had an interest in Parkinson's, or drew on personal experience to provide advice. Now Parkinson's New Zealand community educators are health professionals.
They have specialised knowledge to conduct an ongoing overview of a person with Parkinson's, their environment and their needs, and to make decisions and referrals depending on the person's fluctuating needs.
Clark has had Parkinson's for more than 15 years. It's been a rollercoaster ride and becoming more difficult. "He has good days but also bad days when he cannot get his body to respond to what he is telling it he wants to do," says Rachael, a manager with 12 direct reports.
"Clark says he runs the household, but he's doing less and it's taking him longer."
So after a busy day at work, Rachael's also having to cook meals, get the washing in, as well as household chores at the weekend. More frustrating for her is that it takes Clark more than an hour to get out of bed, showered and dressed. It's time she doesn't have spare when she needs to leave the house at 7.30am. And if she doesn't insist Clark gets up, he will stay in bed all day.
"The compromise is leaving him to get up in his own time and ringing him during coffee break at work." Not only to check whether he is up, but also that he hasn't had an accident.
In her assessment, community educator Glennis Best is more concerned about Rachael. She's at the end of her tether. "Clark's not sleeping – disturbed by bad dreams and frequent trips to the bathroom. So I have disturbed sleep and find it difficult to concentrate at work."
An option is giving up the managerial position and working part-time – compromising her career and her income.
Rachael's mental well-being becomes the focus. And by listening she will assess whether Clark be referred for respite care, giving Rachael some time out, or figuring what could happen if Rachael can no longer manage.
But they are confident of good outcomes because the community educators, all of them registered nurses, are regularly assessing their needs.
"There are a whole lot of issues having someone with Parkinson's," says Rachael. "Like you don't want pity, but actually, you do want it. So you don't know what you want kind of thing."
And there are good reasons people like Clark lose their confidence and social abilities and why support people try to shelter them.
"Sometimes when I ring Clark it would be easy to think he has been drinking. But I know he hasn't. He's tired and his voice won't come out." And sometimes if she looks at Clark she will notice he has lost weight, his trousers don't fit and he's trying to buckle them and he can't get his words out.
"If he was in a shop you probably wouldn't want to help him – you would probably think he is a just a drunken old fool." Again, slow speech and mobility issues are mistaken for drunkenness.
It's the stigma, people's perceptions. "So you are constantly trying to protect him."
Another man living with Parkinson's had isolated himself at home because people didn't understand his problem. He was extremely unwell, wasn't taking his medication and couldn't fend for himself.
"It's crucial the right medication is taken at the right time," says Rachael. The community educator applied some nursing principles, assessed him for three hours, got him back on a regular medication regime and now he's absolutely fine.
Glennis says she got a call from a Parkinson's support person wanting Nordic poles. Was there anyone in the society that could help?
Glennis tried to do some assessing – who was the person with Parkinson's, what was his name, would she know him, could she help, what was his medication regime. But the shutters went up. The family was caring for the man and the GP was managing his medication.
It raised all sorts of alarm bells. Was the man hiding at home to avoid the stigma? Was he physically unable to leave home? Was he in poor mental health?
That's where the nursing, the assessing applied by the community educators is crucial to the well-being of people living with Parkinson's people and their support people.
Rachael says she never appreciated how much nursing was involved in the role of the community educators. But, as Glennis says, the more effective she is at implementing early interventions, the more invisible the nursing is.
For more information contact Glennis Best 021 840 808 (from Otumorakau to Tauranga Central), Liz Rapley-Jones 021 544 566 (Waihi Beach to Tauranga central) or Sharyn Elstob 07 219 0818 (Matata to Waihau Bay).
More on SunLive...