All Mainstreet's my stage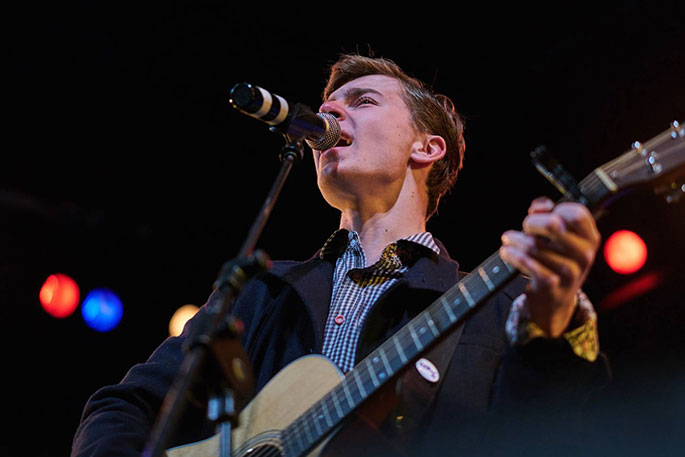 'The Power of Love' by Huey Lewis and the News. Campbell 'Mack' McKenzie will be giving the 1985 hit the treatment at the Mount Busking Festival this Sunday.
"Very much a band song," says guitarist and songster Campbell. "But you can put your own spin on it and make it into an acoustic cover for sure." And after all, a good song is a good song regardless of the sauce you put on it.
Especially if it's delivered to a designer busking audience on Mount Mainstreet between Salisbury and Pacific Avenues on Sunday, October 8.
"Busking's so different from performing on stage," says the Mount Busking Festival veteran. "You're a novelty on the side of the street. People listen, people like and people stop. But they only stop if they like what you are doing."
Campbell's just 18 – a pupil at Auckland Boys' Grammar School. But despite his tender years, he can't remember how many of the 21 Mount Busking Festivals he's been to. "Quite a few. It's just so cool – a great atmosphere – keeps bringing me back." And during a busy school year, this is one time he can set aside for some serious busking.
And he will make his annual trek to the Mount Busking Festival because it's something he can't do at home. Auckland, the city that has everything, doesn't have anything like The Weekend Sun Mount Busking Festival. "It's a damned shame," says Campbell.
The problem with busking on a huge thoroughfare like Auckland's Queen St, is that people are generally on their way somewhere – to work, wherever. "They don't pay any attention," says Campbell. They just walk on by.
But at the Mount Busking Festival, people are there specifically for the music and entertainment. "They make time to stop, listen, watch and appreciate."
Campbell epitomises the Main St busker – a young talent looking for a stage, looking for an audience. "It's about getting some experience performing in front of a lot of people. Even on an informal stage like busking, it's a great opportunity."
And despite his tender years, the guitar-playing songster has some advice for the youngsters featuring in the festival. Regardless of whether they are playing the sax or the flute, the steel drums or the ukulele, he says they should get out and have fun, enjoy and learn from the experience.
Campbell will be weaving some of his own material into his gig – like a "very special personal song" called 'The Game We Play', a tribute to the good times with cast and crew of the school productions he's been involved in; people he considers close enough to be family.
"In the past I always looked ahead, never looking back," the song goes. "But now I see, it was always meant to be…."
He is a young man in awe of Neil Finn and Crowded House. They continue to be an inspiration and he will no doubt pay tribute on Sunday. He's also been in the Auckland Boys' Grammar jazz band and has discovered Frank Sinatra. Will an acoustic treatment of 'My Way' be wafting down Main St on Sunday?
The Busking Festival is an opportunity to showcase talent on the big open public stage that is Mount Mainstreet. The junior section performs from 10.30am-noon and the open section from 12.30-2.30pm. Mount Mainstreet invites you to vote for your favourite act to be in a draw to win $50 Mount Mainstreet cash. There's also a multitude of cafes, restaurants and bars to grab a coffee, a wine or beer, a bite alfresco and soak up the magic of Mount Mainstreet.
There's also a free photo booth. And for the kids, donkey rides, animal petting pens, Pepi Toot train rides around the Mount streets, free popcorn, fun games out on the closed road, face painting, balloon twisting, stilt walking and a trampoline. The Sunday Farmers Market will also be operating in Phoenix Car Park.
After the Mount Busking Festival, Campbell, the final-year college student can focus on sorting the rest of his life. "It'll involve some form of music." His head is telling him music teacher, the heart is telling him to get on the road and be a travelling musician. "We will see which way that works out." But either way it will be a career partly crafted on Mount Mainstreet at the Mount Busking Festival.
More on SunLive...