Gala raises $44,000 for charity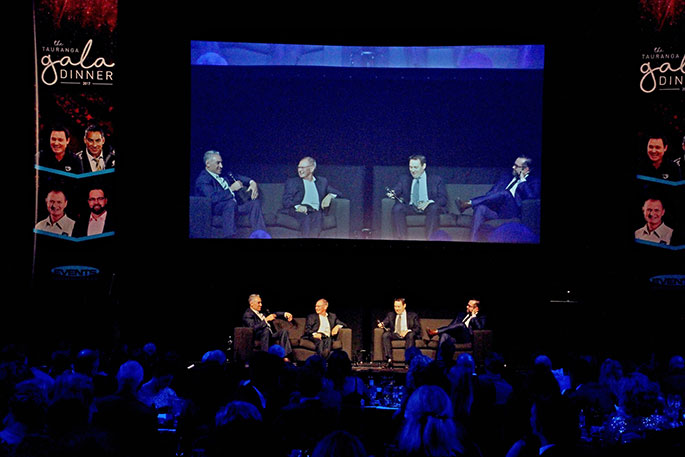 The sell-out Tauranga Gala Dinner has seen another record year, raking in more than $44,000 in donations.
Approximately 530 people attended the event last night, which was hosted at ASB Arena in Mount Maunganui.
The event offers a full evening of 5-star entertainment, where special guests, dignitaries and business leaders within the community can rub shoulders.
Events Innovated director Heath Ingram says the event attracted positive feedback by all who attended.
"We've had great feedback about the speakers and entertainers and as well as that we raised $44,000 for Canteen so they're really happy with that.
"Andrew Mehrtens and Frank Bunce were on form, Scotty Stevenson did a great job as emcee and John McBeth rounded it all off, which shows many years' of experience he's had in broadcasting.
"We opened the show with Calista Nelmes, a young singer from Tauranga, who sung Feeling Good, which was amazing. She absolutely belted it out.
"Dan Sharp was playing throughout the night, who has amazing vocals and he was perfect.
This is the fifth year the event has been running, which Heath expects will continue to grow in popularity.
"The whole point is that this is a big city event," he says. "There's a cool buzz happening in Tauranga at the moment where we are trying to grow up as a city.
"To be a big city we have to deliver big city events, so this is that, it's a chance to dress up and host staff and clients and I think Tauranga needs that if we want to keep up with other major cities around the place.
"Each year we try and raise the production value of it so it feels like quite a special occasion. Whether that's the little things we touch up like the lighting or the ambience of the venue.
"We've got a lot of repeat clients but with the cool things we have to offer we keep getting new people attending each year."
More on SunLive...