Kaha and Fetah announce the arrival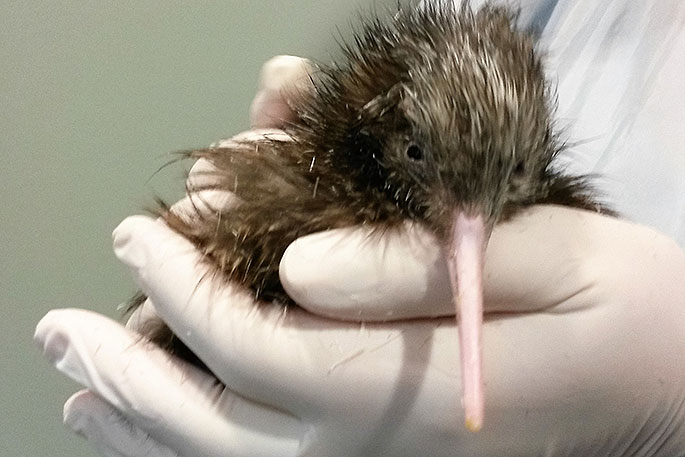 Click the image above to view slideshow
Kaha and Fetah would like to announce the arrival of a cute baby of indeterminate sex – the hatching notice should read. Mother and baby both well.
The baby is a brown kiwi chick born to Kaha and Fetah, who live in Otanewainuku forest.
The chick, weighing just 360gm, was hatched in the Kiwi Encounter hatchery in Rotorua on Friday, having been taken into incubation from Otanewainuku about three weeks ago.
The chick is the third live offspring of dad Kaha and mum Fetah, which were among five wild kiwi transferred from Maungataniwha Forest in Hawke's Bay to Otanewainuku three years ago.
"The chick is very Maungataniwha-coloured," says Kiwi Trust volunteer Sheryl Petersen. "Quite pale greys with a white flash above its eyes.''
The hatching is even more special because Kaha isn't the best of Dads. He's known to walk off the job of egg-minding duty mid-way through incubation.
Kaha abandoned this egg at 57 days but was spotted by OTK's chick transmitter. Trust volunteers entered the forest and retrieved the egg within 12 hours before it got cold.
Rotorua's Kiwi Encounter took over the incubation and the chick hatched a week ago. But even then the chick needed human intervention. It had a leg crossed over its chest so needed a hand getting out of the shell.
The chick will stay at Kiwi Encounter until it reaches 1000gm at which point it will be transferred to a kiwi crèche near Karapiro. And when it's big enough, it'll be released back into Otanewainuku Forest.
At about one year the chick's sex will be determined by a DNA test of its feathers.
More on SunLive...